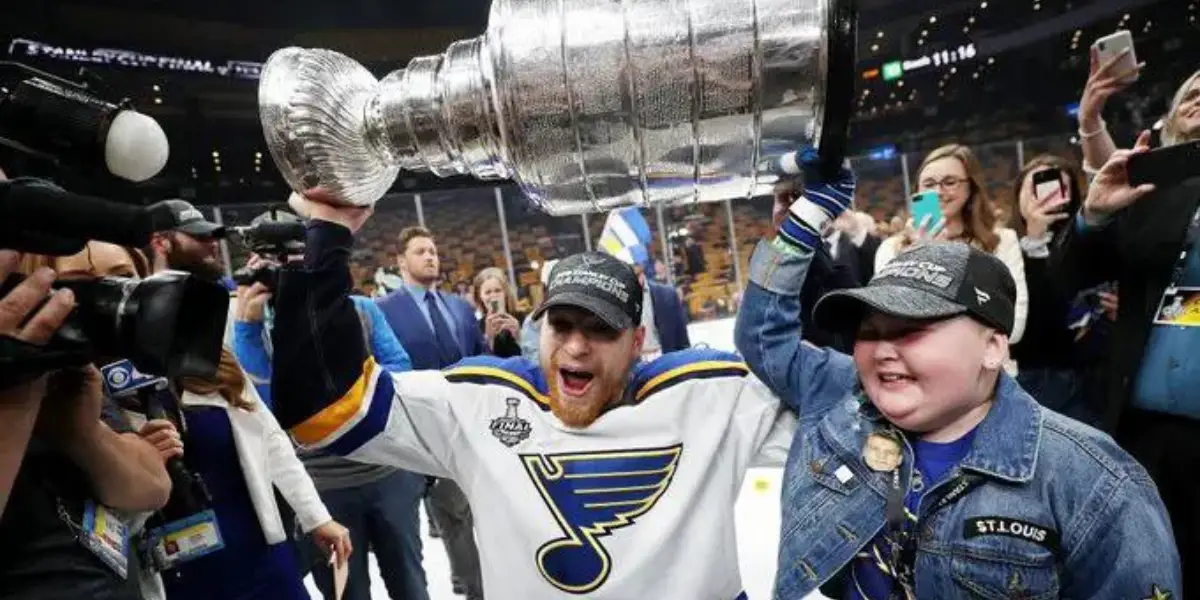 I once wrote an article on five things you probably didn't know about St. Louis Blues defenseman Colton Parayko for SB Nation's St. Louis Game Time. It's as accurate this year as it was two years ago. But I'd like to write a new article that'll essentially be a continuation. Here's an updated player profile on Parayko.

Parayko, a defenseman and alternate captain, has been through a lot in the past few years. He dealt with COVID-19, a back injury, and more. His name has appeared in NHL trade rumors, but who would be interested in him (and who would he waive his no-trade clause for)? After all, he signed an eight-year, $52 million contract extension with a cap hit of $6.5 million on September 1, 2021.

I don't hate Parayko, per see, but he has been showing much less aggressiveness and awareness in recent times. I understand that each NHL player has an individual style and personality. I accept Parayko's style and personality, as he probably won't become a tough guy on the ice. He's more like a teddy bear, in my opinion. But, then, I think Parayko's image needs to be restored. The question is: "What can he do for his image?"

Earlier this season, St. Louis demoted Parayko to their third defensive pairing after losing 5-3 to the Buffalo Sabres on January 24, 2023. Blues head coach Craig Berube told The Athletic: "Did not have a good game … Tentative. It seems like he's a little bit tentative. Just not assertive enough with the puck."

"It's not all the time, but he's definitely not had the year that we expect him to have or he expects."

In my eyes, I think that Parayko hasn't fully recovered; but I could be wrong. He might be your whipping boy, but I don't have any whipping boys. I think he has to step up, especially when playing against other NHL teams' top lines. Oh, and he needs the right defensive partner alongside him.

Speaking of Colton's image, he's a Canadian of Ukrainian descent. He's 29 and was born in St. Albert, Alberta, on May 12, 1993, to Ukrainian natives Tom and Karen Parayko. He has three siblings: Kendra (older sister), Bryce (younger brother), and Kennedy (younger sister). While only Colton and Bryce competed in motocross dirt bikes, all four siblings played hockey as kids and were raised humbly in their childhoods. Colton once explained: "My whole family was raised with humility."

Parayko's hockey career has been unorthodox, to say the least. He attended Paul Kane High School in St. Albert, Alberta, where he played high school hockey. After going unselected in the 2008 WHL Draft, he signed with Midget AAA's St. Albert Flyers for one season before he signed with the St. Albert Crusaders. He wasn't invited to the Fort McMurray Oil Barons' training camp, but he paid $60 to try out for the AJHL team and became the team's seventh defenseman.

Fast forward to 2011, when Parayko received a WHL opportunity but turned it down to commit to the University of Alaska Fairbanks, he played for the Fairbanks Nanooks for three seasons from 2012 to 2015. He finished his college hockey career with two awards apiece for Defensive Player of the Year, All-WCHA First Time, and AHCA West Second-Team All-American in 2014 and 2015, respectively.

After going undrafted in the 2011 NHL Draft, Parayko was selected 86th overall in the third round by the St. Louis Blues in the 2012 NHL Draft. He signed an entry-level, two-year, $1.85 million contract on March 10, 2015, and was reassigned to the Blues' then AHL-affiliate, the Chicago Wolves, to finish the 2014-15 NHL season. He recorded seven points in 17 games in 2014-15.

From there, Parayko stayed in the St. Louis area. He graduated from the University of Alaska Fairbanks with a bachelor's degree in business administration on August 12, 2016. He also competed in the 2016 World Cup of Hockey. He told NHL.com: "Hockey can only last so long. I'm going to have to work after hockey … Having a degree in my back pocket is obviously a bonus."

Parayko has participated in several Blues fundraisers, charity events, and hospital visits. He even launched his own nonprofit organization, the Project 55 Foundation, to assist hospitalized children and their families. His nonprofit provides emotional, physical, and financial burdens for the children and their families. He told NHLPA.com: "I truly do enjoy it. When you hear some of the things that these parents tell you and what they are all going through, it's a life-changing experience. Listening to these stories and meeting so many great people means so much to me. And everyone has a different story they share with you. With the Children's Hospital in St. Louis, I've met kids and families from Poland, from Germany, pretty much all of the states in the U.S. Every story is different from the other."

Parayko made an immediate impact in St. Louis, Mo. His skill and hard work ethic prompted the Blues to sign him to a five-year, $27.5 million contract on July 20, 2017. He spent much of his time with the Blues, but minor injuries kept him out of the Blues' lineup for short-term periods. He went on to become a 2019 Stanley Cup champion.

Parayko has been loving life in St. Louis, and there are many years left for his tenure with the Blues. While he's no longer the Blues' No. 1 defenseman, he's still a down-to-earth defenseman in the NHL. His pet peeve is loud chewers, his favorite food is perogies, his second favorite sport to watch is baseball, his favorite MLB team is the St. Louis Cardinals, his favorite television series is Shameless, and he never leaves without his phone and wallet.

Can you relate to Parayko at all? Let us know in the comments!
The boys are back after a long break but have plenty to talk about as the playoffs are in full swing. We go series by series, looking at how teams have fared so far and who will come out on top. Thanks for listening! Please rate and review our show on your favorite listening platform. Check out our partner's website at www.insidetherink.com for all your latest hockey news.