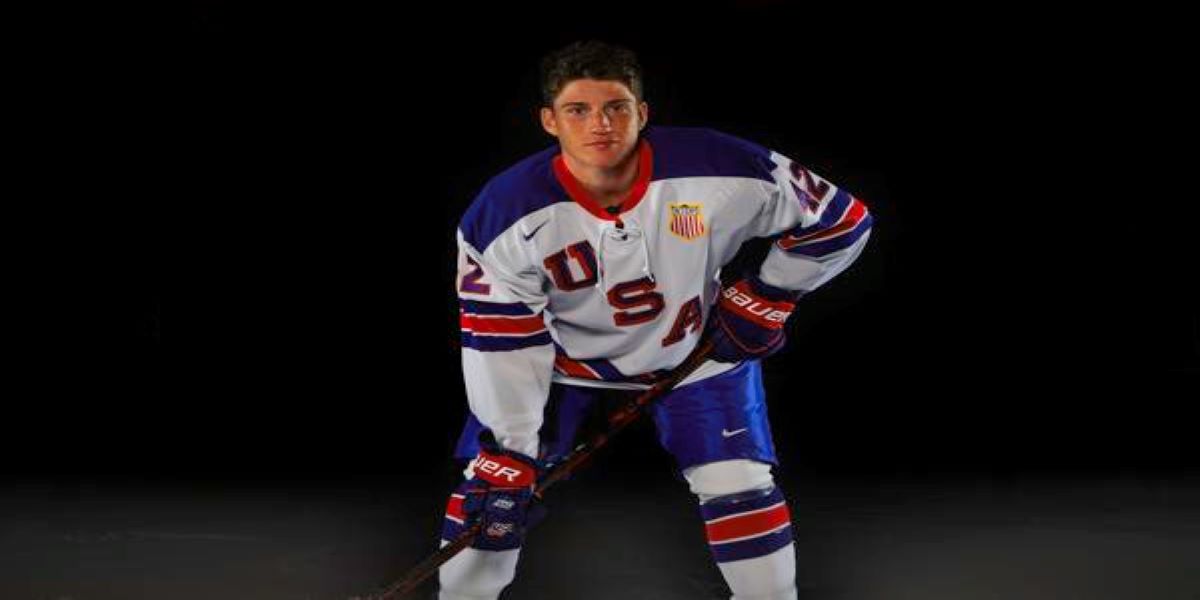 Ryan Leonard is a 2023 NHL draft-eligible prospect from Amherst, Massachusetts, a town located approximately 90 miles west of Boston. Amherst is also home to the UMass Minutemen, but Leonard is committed to Boston College in Fall 2023.
Leonard played prep school hockey at the prestigious Pope Francis in Springfield, MA. In the 2019-20 season, he scored 24 goals with seven assists, pacing all skaters with 31 points. Leonard followed up with another impressive showing in 2020-21 for Pope Francis, scoring 20 goals with seven assists, again leading the team in points (27).
He spent this past season at the USNTDP in Plymouth, Michigan. Leonard saw time between the U17 and U18 clubs, finding a home on the U18 club playing alongside Logan Cooley and Isaac Howard. Between the two, Leonard tallied a combined 26 goals and 17 assists for 43 points in 62 games. He added ten goals and five assists in USDP Juniors play as well.
Leonard joined Team USA at the U18 World Juniors, scoring five goals with one assist in six games en route to a silver medal. He was named Player of the Game with a hat trick in Team USA's dominating 13-3 win over Latvia.
His older brother, John, is currently a forward in the NHL for the Nashville Predators.
Player Profile
D.O.B – January 21, 2005
Nationality – USA
Draft Eligibility – 2023
Height – 5-foot-11
Weight – 181 lbs
Position – Center/Winger
Handedness – Right

Leonard's Style Of Play
Offense
If I had to describe Ryan Leonard's style of play, it would be best described as an "aggressive energy" The young forward plays with a sense of fearlessness, especially delivering big hits to jar the puck loose or break up the play entirely. Leonard is already so talented, with another year to fine-tune at the USDP.
Throughout my viewings, one thing that stood out to me was Leonard's Hockey IQ. He plays a solid 200-foot game, going after pucks in his own zone. He always has his head up with the puck on his stick, scanning the ice for potential mismatches.
Along with his quick skating ability, Leonard shows a solid anticipation for read the developing play and puts himself in a good spot to join in the odd-man rush-up ice. He developed good chemistry with Isaac Howard last season, connecting on a few tap-ins, or Leonard received the puck in tight and used his quick hands to maneuver around the goaltender.
Without the puck on his stick, Leonard shines. As noted, he does a terrific job of puck hunting and goes fearlessly into the corners to win puck battles. He's not afraid to go against bigger competition, often leveling opponents. This area of his game stands out time and time again. He has to be careful, though, because a couple of his hits resulted in penalties.
From a positional standpoint, Leonard does a terrific job anticipating the play and puts himself in good spots for one-timers once his teammates see that he's open.
If you watch where Leonard starts in the clip below, he's below the net and loses the puck off a deflection. However, he understands that his teammates are right there to win it back, and Leonard goes undetected around to the left side of the net for an easy blast into the back of the net.
One area where he can improve next season is making cleaner passes. Sometimes Leonard is rushed or feels pressure closing in on him and makes an errant pass or turns it over to the opposition. In my viewing, I've seen him do this both in the o-zone and in the d-zone.
From a shot selection standpoint, he did a lot of his damage within the slot, but a fair amount of Leonard's shots came from the right dot or just above the right circle. He features a terrific and somehow deceptive wrist shot with a quick release. Leonard can score from anywhere in the o-zone.
Defense
While he's tenacious on the forecheck in the d-zone, if there's one area where Leonard can improve before the 2023 NHL Draft, it's his defensive positioning. He does a great job of anticipating plays, but Leonard can get caught overcommitted, and the opposition skates right past him.
Throughout the course of my viewings, there was one instance that particularly stood out to me against Youngstown. After his team lost the initial faceoff in the d-zone, Youngstown settled the puck. Leonard was initially in a terrific spot to make a play or break up the scoring chance. However, he overcommitted himself, and the Youngstown skater went right past him and scored.
Now, just as he is in the o-zone, Leonard is fearless, going after loose pucks in his own zone. Despite being 5-foot-11, he's not afraid to go into the corner with guys bigger than him, hitting them hard. Like the clip below, this area of his game stood out to me the most. He will make the opposition think twice about going into the corner with him.
That said, when he wins the puck battles, he can often rush passes up-ice, resulting in turnovers in his own zone.
Without the puck on his stick, Leonard is a great shot blocker. He doesn't mind throwing his body in harm's way to prevent the puck from getting through.
Leonard was used in all situations in his first year with the USDP. He was strong on the penalty kill because he provided quick coverage when the opposition received the puck, resulting in rushed shots or errant passes.
Transitional Play
While he didn't have too many breakaway chances in his first year in Plymouth, Leonard has elite skating abilities. Combined with his puck skills, especially in tight, he will continue to add more of these plays to his highlight reel.
As noted earlier, Leonard is a terrific anticipator. He can see the play developing and jumps into the rush-up-ice. In my viewings, I've seen him both as the lead puck carrier and also providing support.
With the puck on his stick, Leonard is a confident puck moving forward. Sometimes he will carry the puck into the o-zone before dishing it to a teammate, but then he continues toward the net. If he carries the puck in alone against the opposition, he tends to dump the puck in and go after it. Because he's so aggressive in his puck battles, Leonard usually comes out on top and is ready to make a play from down low or pass it off to continue the offensive cycle.
Skating
For only being 5-foot-11, Leonard has long, powerful strides that give him an early first step on the opposition. He shows good acceleration, which should continue to be one of his better traits as he physically matures. That said, Leonard has already demonstrated the strength to shield defenders with his body while he continues to push the puck through the neutral zone and into the o-zone.
With a full season playing for the U18 club this coming season, Ryan Leonard figures to be one of the most promising forwards out of the USNTDP in the 2023 NHL Draft.
(Videos courtesy of InStat)
The boys are back after a long break but have plenty to talk about as the playoffs are in full swing. We go series by series, looking at how teams have fared so far and who will come out on top. Thanks for listening! Please rate and review our show on your favorite listening platform. Check out our partner's website at www.insidetherink.com for all your latest hockey news.