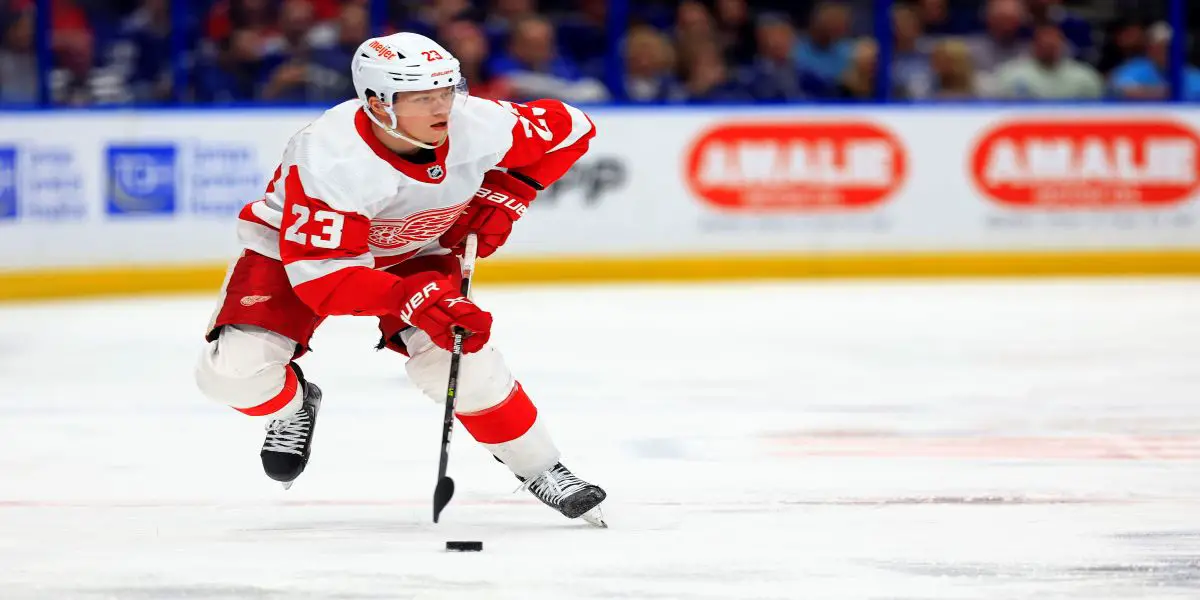 After a slow start to his sophomore season, Lucas Raymond is starting to contribute on a nightly basis for the Detroit Red Wings. Since he entered the NHL, Raymond has played on Detroit's top line with Dylan Larkin. This year, the duo started the season with Tyler Bertuzzi, but after Bertuzzi was injured, Dominik Kubalik or Pius Suter have been filling in on the left side. When Bertuzzi resumes playing this week, he is expected to once again play with Larkin and Raymond.
Recently, Raymond has been as hot as any player on the Red Wings roster. Before last night's game in Anaheim, Raymond had six goals in his previous eight games. This brings Raymond's totals to six goals, three assists, nine points, a +1 rating, and 32 shots on goal in 15 games to start the season.
Raymond's Contract
On April 16, 2021, the Detroit Red Wings signed Lucas Raymond to a three-year entry-level contract. For the duration of the contract, Raymond was set to have an NHL cap hit of $900,000 and earn $80,000 if he played in the AHL. Originally, Raymond was going to start his North American career playing for Grand Rapids in the AHL. A terrific preseason and a shoulder injury to Jakub Vrana paved the way for Raymond to start the season with Detroit.
Rookie Season
Raymond picked up an assist in his first NHL game at home against Tampa Bay. He scored his first NHL goal in his third NHL game against Columbus. In game six at Chicago, Raymond scored his first career hat trick and also picked up an assist for a four-point game. After scoring 12 points in 14 games during the month of November, Raymond was awarded Rookie of the Month.
Last season, Raymond placed among the top rookie scorers throughout his rookie season. After the year, Raymond finished 2nd in goals (23), 4th in assists (34), 3rd in points (57), 4th in shots on goal (184), and 8th in shooting percentage (12.5%). Raymond placed 4th in the Calder Memorial Trophy race behind the three finalists, teammate and eventual winner Moritz Seider, Michael Bunting of Toronto, and Trevor Zegras of Anaheim. Raymond was named to the All-Rookie team that was announced in June.
Expectations this season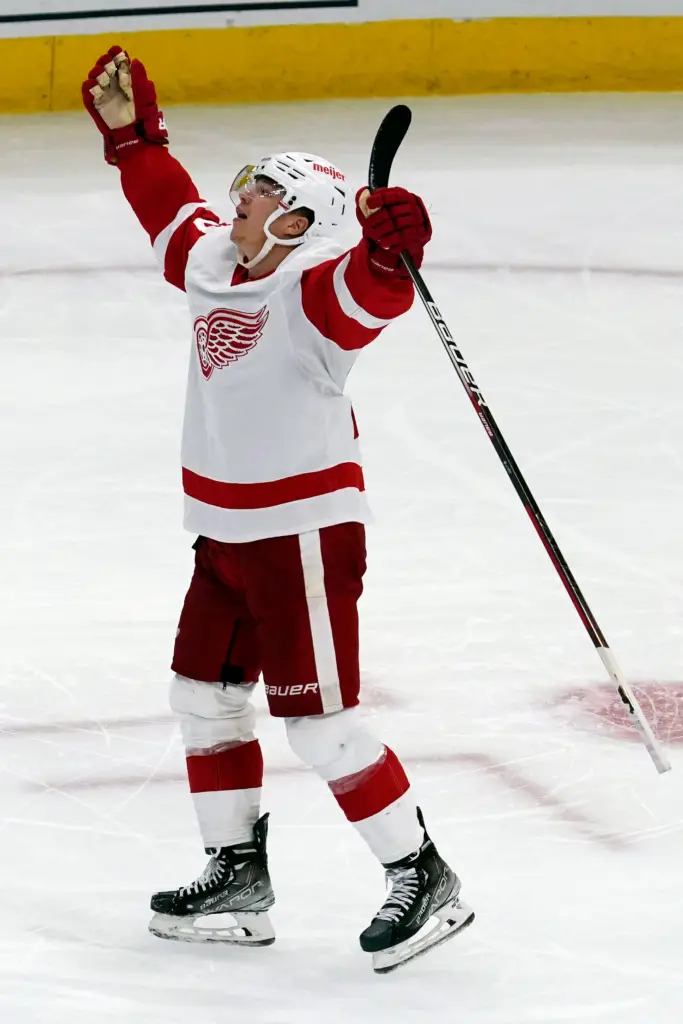 To start his NHL career, Raymond has proven to be quite durable. Before last night, Raymond had played 97 consecutive games. He has scored 29 goals, 37 assists, and 66 points, has a -31 rating and has 216 shots on goal, and a shooting percentage of 13.4%.
Expectations remain immense for the highly skilled winger. He will likely play the entire season on one of the top two lines, receive top minutes on the power-play, and be granted quality minutes to score with the Red Wings top offensive players.
Raymond will likely score 25-30 goals this season and play in all offensive situations. With the addition of David Perron as a free agent, Raymond and Perron will probably spend the season switching as the right-wingers for either Dylan Larkin or Andrew Copp.
It is hard to imagine Lucas Raymond scoring goals at his most recent rate. Expect Raymond to help create scoring chances virtually every shift and bring fans out of their seats throughout the season. The success of the Red Wings season requires the best-skilled players to contribute every night. Only time will tell if Lucas Raymond can continue to be a prolific scorer throughout a successful season in Hockeytown.
In this episode, we recap the World Championships, highlighting Kubalik, Seider, Mazur. Next, we take a long look at the 2023 first round and which players will be available at 9th and 17th.