The Detroit Red Wings will be starting a new era when they begin training camp in September. Gone will be three-quarters of last year's coaching staff plus several UFA's. The Red Wings currently only have 26 players under contract, with only 14 of those players having played on the NHL roster this year.
With over $36.5M in cap space, Detroit General Manager Steve Yzerman will likely be quite busy between now and the season opener in October. Yzerman will probably sign at least one or two crucial free agents. Some of these signed players could include Marc Staal and Sam Gagner.
Assuming that Yzerman doesn't fill out the roster with current prospects and Yzerman doesn't trade any players from the current roster, what will the lineup look like?
Let's take a look at the top UFA's, who are under 30, that Yzerman may target to balance out an already promising group of youngsters in Detroit.
Current Forward Lineup
The forwards who should be part of the lineup will likely include centers Dylan Larkin, Pius Suter, Joe Veleno, and Michael Rasmussen. Tyler Bertuzzi, Lucas Raymond, Jakub Vrana, Robby Fabbri, and Filip Zadina would help fill out the top three lines.
Oskar Sundqvist, Adam Erne, and Givani Smith are the other forwards who will likely be part of the opening night roster.
At this point, Jonatan Berggren looks like he is the only forward prospect who could crack this lineup. It will be challenging to squeeze Berggren into the middle-six role he deserves without a trade or an injury. Look for Yzerman to move at least one of the top nine forwards from this current roster.
Current UFA Forwards Under 30
I don't believe that Yzerman will use up cap space to bring in an aging veteran forward. This is why I think that if the Red Wings sign a UFA forward, it will be a player under 30 who could sign a contract that is at least two years in duration.
Players that meet these criteria include Johnny Gaudreau (Calgary), Filip Forsberg (Nashville), Andre Burakovsky (Colorado), Ryan Strome (NYR), Andrew Copp (NYR), and Valeri Nichushkin (Colorado).
Let's assume that Detroit signs the top two scorers from this group and signs Johnny Gaudreau, who scored 115 points in 82 games this year playing LW for Calgary, and Filip Forsberg, who scored 84 points in 69 games playing forward for Nashville.
Current Defense Lineup
Detroit only has four NHL-caliber defensemen under contract for next year. They also have two defensemen who are RFA and could sign extensions with Detroit.
The defense is led by Moritz Seider and Filip Hronek. Add in Jordan Oesterle and Gustav Lindstrom, and you have half of what is expected to start the year in Detroit. Jake Walman is an RFA and is expected to be re-signed by the Red Wings. Olli Juolevi is also an RFA, but the jury is still out on whether Yzerman will tender him a contract beyond this year.
This leaves three spots on the Red Wings blueline for next year. The Red Wings have two terrific defense prospects who played in the SHL this year. Simon Edvinsson recently signed his three-year entry-level contract and is expected to push for a spot in the opening night lineup. Albert Johansson was loaned to his SHL team for this season and will likely push for a place in the lineup.
If both Edvinsson and Johansson make the team, this leaves one spot for a veteran free agent.
Current UFA Defensemen Under 30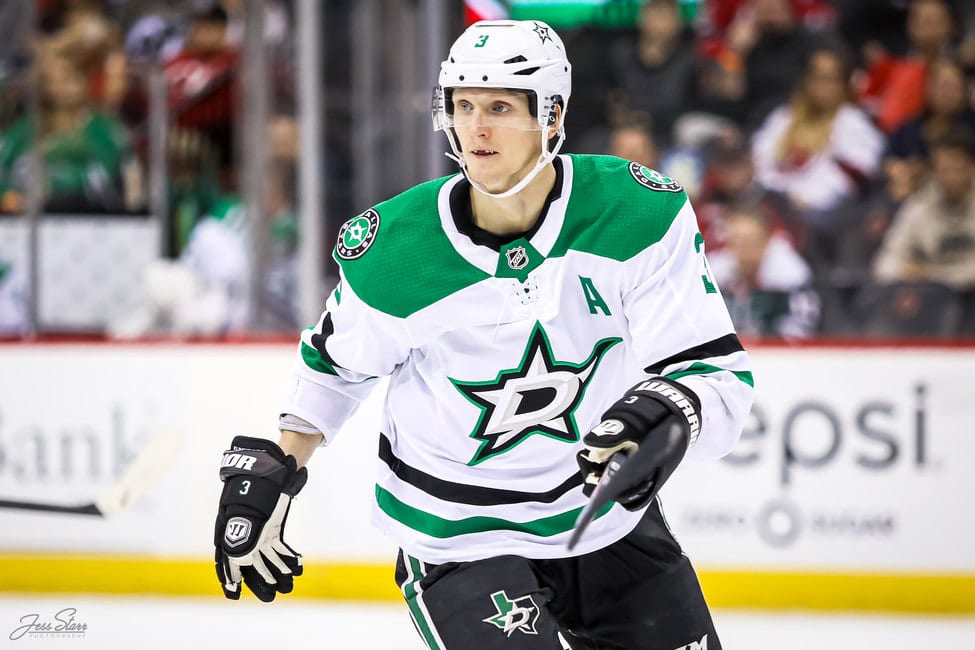 The best defenseman under 30 is right-defenseman John Klingberg, who is currently playing for Dallas. Klingberg will turn 30 this summer, but he is a right-shot, and Detroit is now short on RD in the organization. In 74 games, Klingberg scored six goals, 41 assists, 47 points, and had a -28 rating. Klingberg currently has a cap hit of $4.25M, and it would likely take more than that to get him into a Red Wings uniform next season.
Current Goaltenders Under Contract
Detroit currently only has two goaltenders under contract for next year. Alex Nedeljkovic has established himself as a legitimate #1 NHL goaltender. Top goaltending prospect Sebastian Cossa is the only other goaltender under contract. Cossa will likely need at least one year in the AHL before he will be ready to see NHL action.
Free Agent Goaltender
This leaves one opening for a veteran to backup Nedeljkovic. Magnus Hellberg signed a contract and joined the Red Wings for the season's final two weeks. The KHL veteran looks like he may be an affordable fit as a back for Nedeljkovic. He played really well in the season finale in New Jersey and appeared to get along with the guys during his two weeks with the team. Hellberg recently turned 31 and signed an $800,000 contract. With five years of AHL experience and five years in the KHL, Hellberg could be an affordable option in Detroit.
Dream Lineup
Here is my dream lineup from the players mentioned above. Garth will look at possible free agents as we get closer to the free agency period. There are three new forwards, three new defensemen, and a new backup goaltender looking at this lineup. This is a deeper roster that will likely miss the playoffs, but a team will win more games and get the Red Wings closer to playing for the Stanley Cup.
Forwards
Jonatan Berggren-Dylan Larkin-Lucas Raymond
Johnny Gaudreau-Filip Forsberg-Jakub Vrana
Tyler Bertuzzi-Pius Suter-Robby Fabbri
Michael Rasmussen-Joe Veleno-Filip Zadina
Defensemen
Albert Johansson-Moritz Seider
Simon Edvinsson-Filip Hronek
Jake Walman-John Klingberg
Goaltenders
Alex Nedeljkovic
Magnus Hellberg
Extras: Adam Erne, Givani Smith, Jordan Oesterle, Gustav Lindstrom, Oskar Sundqvist