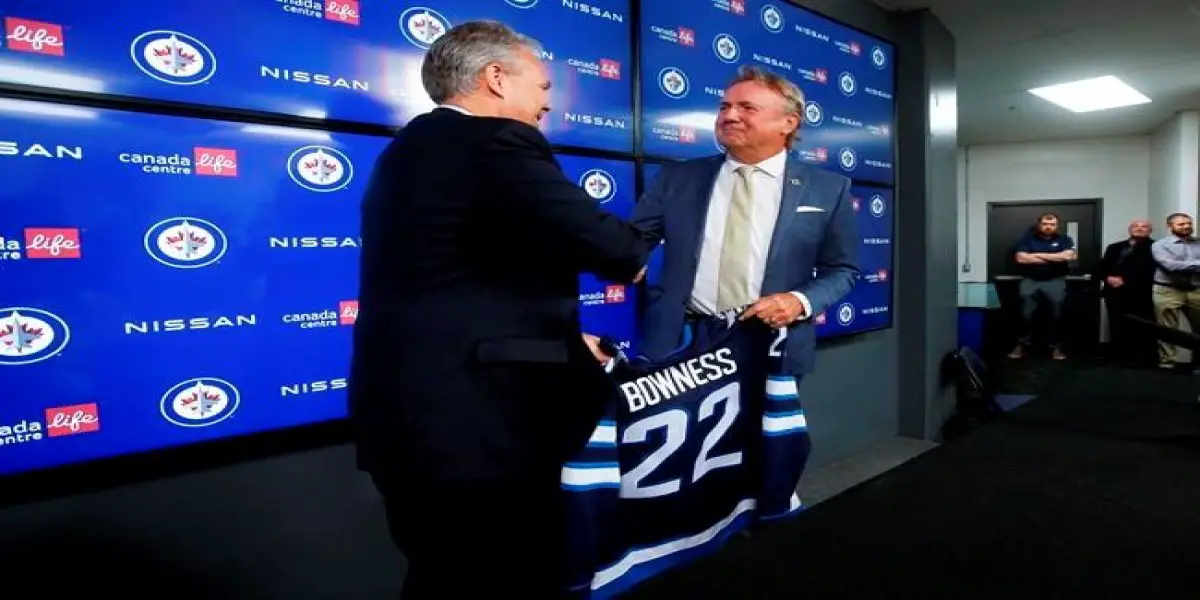 Welcome to Rick Bowness, the new head coach for the Winnipeg Jets.  The team held a press conference on Monday morning to show off their brand new (kind of) coach. I say kind of new because, though not precisely a retread, Bowness has been a 1) player, 2) assistant coach, and 3) head coach for the Jets during the 1.0 era.   It was also let known that Scott Arniel will be joining the team as an associate head coach and that more staff are being pursued.
Rick Bowness, or "Bones" as he is better known, has signed a two-year deal at 2.5 million per year. "It's an exciting time for our organization," said an upbeat Kevin Cheveldayoff.  When asked about what qualities the general manager was looking for in a new coach, Chevy replied, "Someone with knowledge and character." Chevy also said that Bowness is a great communicator when pressed more about what the Jets need and how the new coach can help. 'He is direct and can teach structure, and perhaps most importantly, he will hold players accountable.'  He added that Bowness can adapt and is easy to talk to. He listens to players and is able to work with young men and develop them.  Chevy mentions the word synergy several times.
When asked about the Barry Trotz situation, Cheveldayoff admitted that Trotz was their first choice, but as soon as the former New York Islander coach said he wasn't going to coach at all, the Jets reached out to Bowness.  The GM also said that before going with Bowness, it was an exhaustive search, and they did their due diligence. They talked to several other candidates, including John Tortorella.
When Bowness was asked how he felt about being the second choice of the Jets, he looked at Cheveldayoff and said jokingly, and to a lot of laughs, "If I'm in his chair, I'm going after Trotzy. He would have been my first choice too!"  Bowness admitted that Trotz had recently sent him a nice text message congratulating him.
When Bowness had his opportunity to speak, he said that the Jets were a good club that "Just lost its way last year." He wants to get them back on track.
Bowness stepped away from the Dallas Stars head coaching gig after being knocked out of this spring's playoffs by the Calgary Flames. When asked why he returned to coaching when he had hinted that retirement was an option, he replied, "I didn't need a job. I want to win, but I wasn't going to coach for the sake of coaching."
"I turned down three other assistant coaching opportunities. I had a chance to do a rebuild but wanted to work with good people at this stage of my career. I told my wife Judy that the True North organization has a good reputation around the league. And I wanted to be with a team that can win now."
"I didn't pursue anything, Chevy called me. This team has good goaltending, some good defense, and forwards that can score. And it's a great market."
When asked what he thought was wrong with the Jets, he offered this:
"It used to be a physical game against the Jets, but something was missing last year when we played them. It used to be hard to win here. They used to be competitive. Hard to put your finger on it."
And what will he do to make a change?
"Get buy-in—the buy in starts from being frustrated from last year. The players know that they are better than that. It's up to us as a staff to get rid of the grey area.  You can't be afraid to have tough conversations. We will be hard to play against; in their face and keep the puck as much as you can and when we don't have it, I know it's a hockey cliché, but take away time and space.  I broke down video and I see areas where we can improve upon."
Bowness has already been calling players and chatting about the future.  He reported that players are excited and ready to go. Cheveldayoff said the same and alluded to an eagerness to get the next season going after having dinner the night before with Bowness and Arniel.
"We have a good rapport," said Bowness on Arniel.  "I played with him and coached him—both in Winnipeg and Boston.  We are talking to a few other people. We will put the right people in place but have to have a positive, upbeat attitude."
It will remain to be seen how the team responds to the new coach.  Look for an uptick in effort and defensive zone responsibility at a minimum.  If anything, Bowness knows the Jets as they played each other often the last three seasons, and he knows the Central.  "This is a tough division."
Indeed it is. Good luck, Mr. Bowness, and your work starts now.
The NHL 2022 Amateur draft begins this Thursday in Montreal.
The boys squeak in an episode before Jake heads off to Florida. They touch on the Bruins' recent milestones, especially Bergerons 1000 points. They head over to the metro to see can Pittsburgh and Washington turn things around before heading out west to take Shane Wright and the Seattle Krakheads.Thanks for listening! Please rate and review our show on your favorite listening platform. Check out our partner's website at www.insidetherink.com for all your latest hockey news.