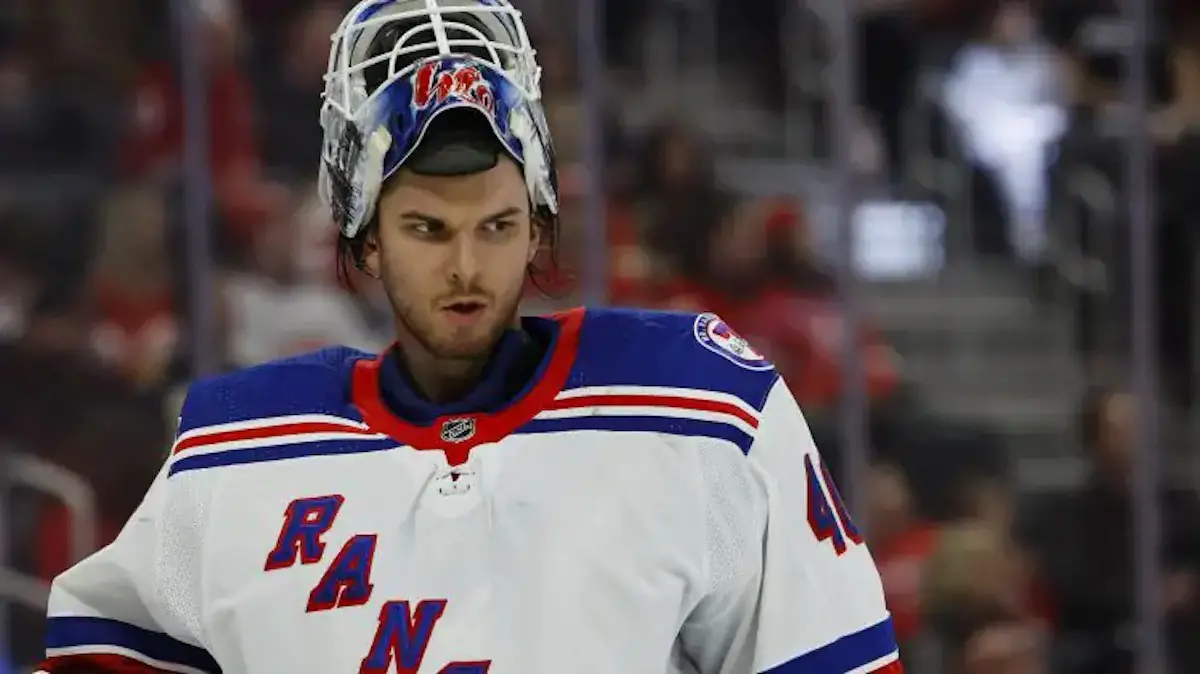 Joe Sakic apparently celebrates his birthday by making trades. The Avalanche gave the New York Rangers three later-round draft picks in exchange for goaltender Alexandar Georgiev. 
This trade confirms that Darcy Kuemper is leaving Colorado and hitting the market on July 13th. It seemed like Colorado never made an offer, knowing they didn't have the cap space for him. With so many superstars, things are getting tight for Colorado, and with a Stanley Cup under his belt, Kuemper can ask for a lot. Toronto is the most interested party, but Edmonton could also be looking to sign Kuemper. A small group of fans is hoping he goes to either New Jersey or Ottawa and fixes their goaltending issues. 
32-year-old Kuemper finishes this season with Avalanche with a .921 save percentage in the regular season, 37 wins, five shutouts, and finished 5th in the league in wins and save percentage. In the playoffs, he had ten wins, a .902 save percentage, and a 7-0 shutout against the Tampa Bay Lightning. Kuemper stopped 16 shots that night. He became the only goalie to record an OT assist in a Stanley Cup final. Never forget the goalie assist. All of this culminated with a Stanley Cup win for Kuemper and the Avalanche. He was the starting goalie in the deciding game 6, stopping 22 out of 23 shots. 
Avs fans may be worried since they're losing their Stanley Cup-winning goalie, but they should remember the Avalanche still have Pavel Francouz. Francouz played 21 regular-season games with a .916 save percentage, started in 7 playoff games with a .906 save percentage, and had his own playoff shutout against the Edmonton Oilers. It will be interesting to see if Georgiev is the starter in Colorado or if Francouz will finally get that honor.
Avs fans also have reasons to be excited about Georgiev. The 26-year-old Bulgarian-born netminder came to the Rangers as an undrafted free agent in 2017. He has only played for them and their AHL affiliate, the Hartford Wolfpack. In his rookie season, Georgiev was second in first-year goaltender appearances with 33 games, had 966 saves, posted two shutouts, was ranked 4th in wins with 14 and had a .914 save percentage. He had a .904 save percentage in Hartford, a 16-22-7, and two shutouts. Georgiev is a dual citizen and competes for the Russian National Team, where he earned a 2016 IIHF World Junior Championship silver medal and a 2019 IIHF World Championship bronze medal. He is the second goaltender for the Russian/Soviet Union team to post a shutout in his first two World Championship appearances. He knows how to make a shutout.
This season with the Rangers, he was the backup to Veniza Trophy winner Igor Shesterkin. In 33 regular-season games, he had a 15-10-2 record, and a .898 save percentage. He also had two more shutouts and earned his 50th win in January against the Anaheim Ducks. He played two post-season games this year with a .935 save percentage and one loss. He will likely need time to adjust to the Avalanche, as did Darcy Kuemper and Philip Grubauer. It will be a few months for the Avalanche to see everything he can do. 
The boys are back after a long break but have plenty to talk about as the playoffs are in full swing. We go series by series, looking at how teams have fared so far and who will come out on top. Thanks for listening! Please rate and review our show on your favorite listening platform. Check out our partner's website at www.insidetherink.com for all your latest hockey news.