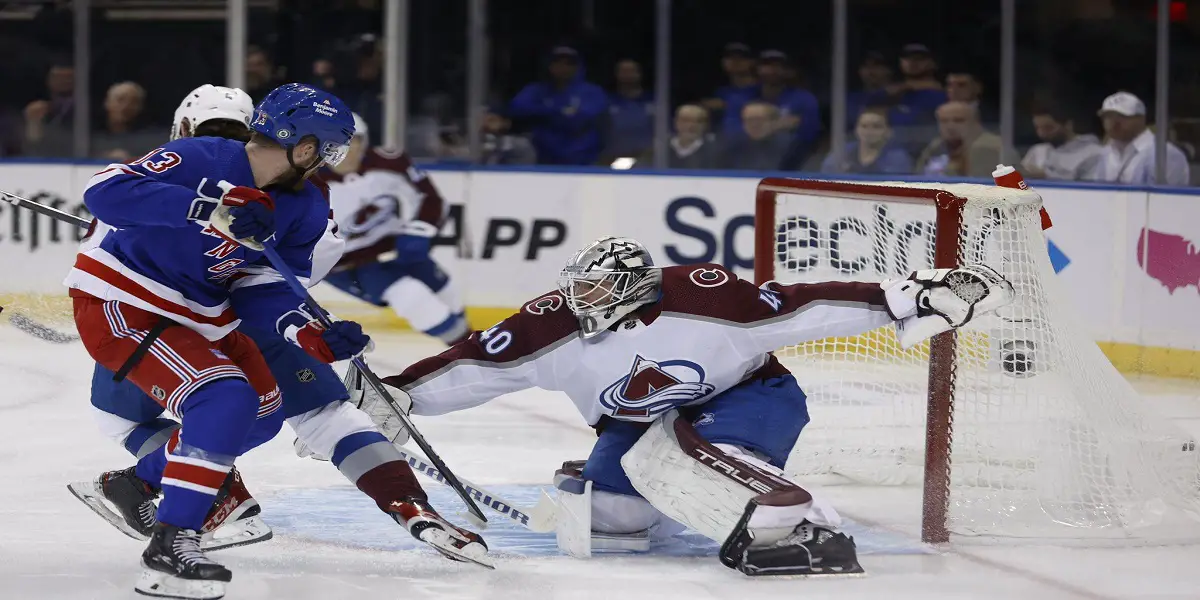 The Colorado Avalanche and the New York Rangers met for the first time this season on October 25th. 
This was a highly anticipated game as it was the Avs new goaltender, Alexandar Georgiev's, return to New York. The Avalanche traded for Georgiev back in July after not making an offer to their cup-winning goalie, Darcy Kuemper. 
It ended up being a battle of the goaltenders, with the 2021/22 Veniza Trophy winner, Igor Shesterkin, facing his former backup. Shesterkin stopped 42 of the Avalanche's 44 shots for a .955% save percentage. Georgiev faced 46 shots from the Rangers, stopping 44 of them for a .957%. 
The Avalanche struck first with a first-period powerplay goal from Valeri Nichushkin, assisted by Cale Makar. It's his fifth powerplay goal this season and his seventh goal in seven games. He's leading the team in both. The first period went to the Avalanche. They outshot the Rangers 20-11.
Georgiev's best save was in the second. He denied Alexis Lafreniere's backhand with a pad stop. He also denied Mika Zibanejad's one-timer during a power play. The Avs owe him dinner for that one. 
Ultimately, the Rangers sprang back and dominated period two. They had 15 shots and a last-minute goal from Barclay Goodrow to tie the game.
Logan O'Connor scored a shorthanded goal one minute into the third period to put the Avalanche on top.
The Avs got comfortable and thought they were going home with a one goal lead, but Adam Fox had other plans. At 14:03 of the 3rd, he got a shot past Georgiev and tied the game again.
The game went to an eight-round shootout. Nathan MacKinnon shot first and missed. Shesterkin and Georgiev stopped shots in the next three rounds. Mikko Rantanen shocked everyone when he got his attempt past Shesterkin.  Artemi Panarin scored next. Then Evan Rodrigues got right up into the crease and knocked Shesterkin into the goal. It didn't matter; the Avalanche were up by 1.
Alexis Lafreniere had to score to keep the Rangers in it. He came in with a low, fast shot, but Georgiev anticipated what side he was going to and shot his right pad out in perfect timing to deny him.
After five seasons as the Rangers backup (first to Henrik Lundqvist and then Shesterkin), Georgiev is finally coming into his own as a starting goalie. He's fitting in well with the Avs organization and has already bailed them out on several occasions. They'll need him to keep this up if they're going for back-to-back cups. 
For the Avs, it's their first of three New York area games. Their next game is Friday, October 28th, against the New Jersey Devils and their former shutdown defenseman, Ryan Graves.
This is the defending champs only trip to Madison Square Garden this season. The second game in the series will be on December 9th in Ball Arena. Will the Rangers crack the Avs, or will Georgiev shut down his former team again?
The boys are back after a long break but have plenty to talk about as the playoffs are in full swing. We go series by series, looking at how teams have fared so far and who will come out on top. Thanks for listening! Please rate and review our show on your favorite listening platform. Check out our partner's website at www.insidetherink.com for all your latest hockey news.