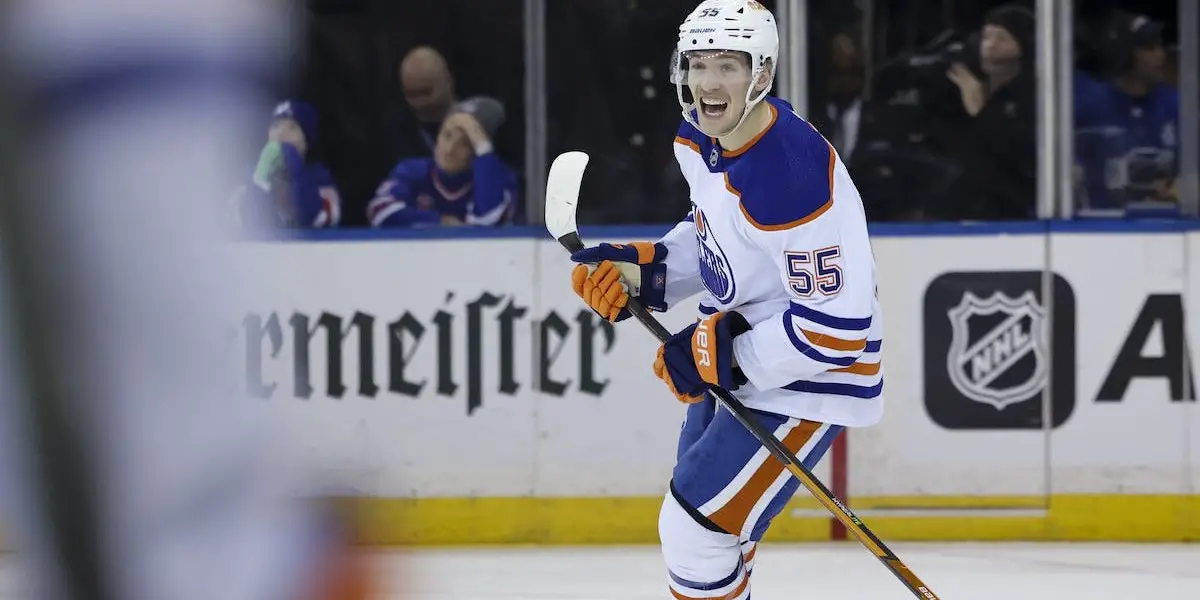 If Saturday's matinee game isn't the Edmonton Oilers in a freaking nutshell, I don't know what is. Being down 3-0 after two periods against the Rangers, it looked like they'd go winless on their three game road trip, ending it on a very sour note. When that reality looked inevitable, the team exploded with a four-goal third period, one of them being Dylan Holloway's first NHL goal, at last, two of them with Evan Bouchard finally getting puck luck with his shots, and neither McDavid nor Draisaitl getting a single point before the game-winning goal on a late powerplay. It's not every day the reigning Vezina trophy winner has a 20 minute collapse like that. Momentum is a funny thing; it can come right out of nowhere and change everything by that much. It makes the bipolar reaction of Oilers Twitter more amusing. I don't react as badly to the Oilers losses.
I'm calm (for the most part) about their record because it's so typical of the team every year. The things that Oilers fans and non-Oilers fans have been saying are the same things they said last season, the season before, and the season before. They always start well in October, then have a fraction of the season where they forget how to play hockey, and everyone needs to be traded or fired. It's mainly in November/December that this habit comes about, and it's a habit that, for whatever reason, this team can never shake off. Even McDavid's sophomore season came with the Oilers having a really hot October and a frigid November. This roster is not perfect by any stretch. But most players on it have been in the league long enough to learn how to clean up toxic habits. The issues with the team are not always on paper, and there are mental issues that they've grown too accustomed to. Ken Holland's "Up and down like a toilet seat" quote last season is a funny twitter GIF, but it's not a joke. Every season in the McDavid era has been a toilet seat. Rather than act on hyperbole every game night/day, fans have to accept that this is just what the team is and enjoy the ride. It's infuriating, but it's not new. That being said, maybe that third period on Saturday should be a game the boys look back on as a confidence boost to understand the importance of a whole 60 minute effort. Even for Jack Campbell in net, who didn't look great statistically but made crucial saves when the Oilers started working on their comeback. This week's opponents are…
Monday, November 28th at 7:30 pm VS Florida Panthers
The second meeting between the two teams this month and the last this season. Last season, when the Panthers visited Rogers Place, they pounded the Oilers 6-0. This was the time that Draisaitl got "pissy." We were seeing the same trends I mentioned earlier in the blog, where everything seemed hopeless for the Oilers before they eventually got it together again. It might be hard for the boys to feel energized for this game after coming back from their road trip, but maybe Saturday's result may provide an extra jolt.
Wednesday, November 30th at 7:30 pm VS Chicago Blackhawks
Another second meeting, and another road trip, this one being a game shorter. It'll have been exactly a month from this day since Andreas Athanasiou scored possibly this season's Goal Of The Year. Another Oilers tradition is seeing former players get better on other teams after leaving Edmonton.
Thursday, December 1st at 6 pm VS Minnesota Wild
We always lose against this team.
Saturday, December 3rd at 7 pm VS Montreal Canadiens
This is not the same Habs team that went to the Stanley Cup Finals in 2021. Nor is it the same one that went through a mid-season meltdown last year before feeling rejuvenated by a coaching change. They subtracted a lot of leadership from that roster after their Cup run, Carey Price and Shea Weber being the most notable. They look pretty decent in the standings for a team that's not expected to have a playoff appearance this year. Young player mistakes are still to be expected, but credit is also due here. Martin St. Louis has done wonders for this squad. Being a small player himself during his playing days, he's also an inspiring person for their smaller players to learn from. Nick Suzuki, Cole Caufield, and Kirby Dach look like the most exciting top line they've had in a dog's age.
The boys are back after a long break but have plenty to talk about as the playoffs are in full swing. We go series by series, looking at how teams have fared so far and who will come out on top. Thanks for listening! Please rate and review our show on your favorite listening platform. Check out our partner's website at www.insidetherink.com for all your latest hockey news.