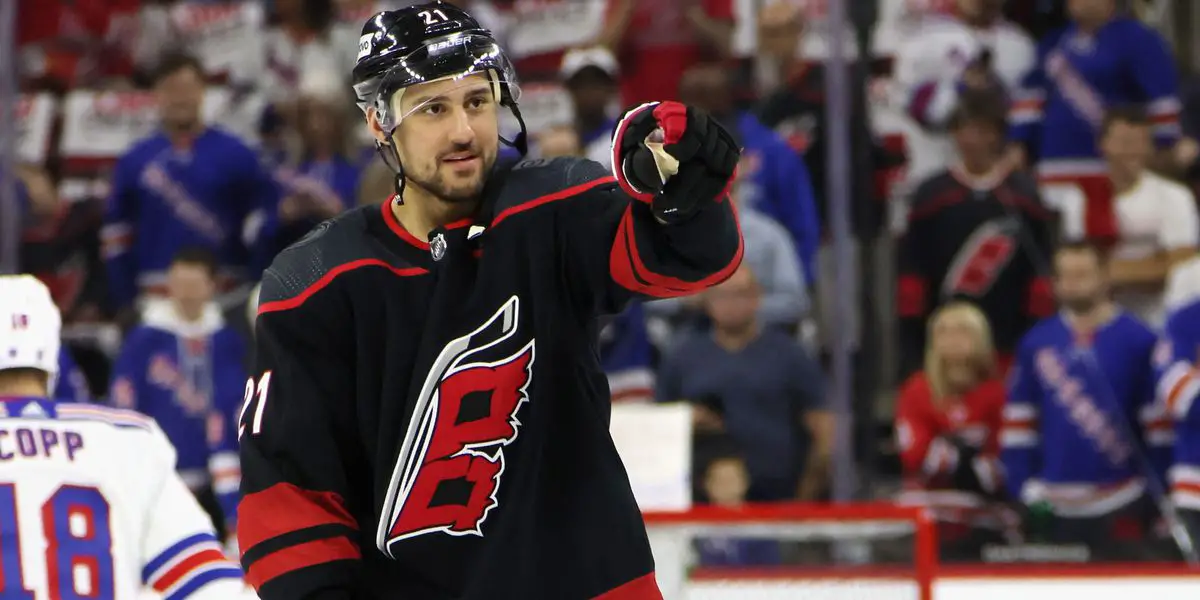 Free agency opened on July 13th at noon, and the first day was a frenzy as the league saw many players change teams. Since the opening day, free agency has slowed down, but some talented names are still left on the board of available players. Day one saw Johnny Gaudreau bolt to Columbus, Vincent Trocheck head to the big apple to play for the Rangers, Ondrej Palat go to New Jersey, and Claude Giroux returns home to Ottawa. These were just four of a handful of players that switched teams, creating a shift of power around the league. Teams still looking to upgrade their roster have their choice of talent as high-end talent still remains on the open market as they look for the right fit and a team willing to pay the price tag they are demanding.
Patrice Bergeron
The 36-year-old Captain of the Boston Bruins is coming off one of the greatest defensive seasons by a forward in NHL history. Bergeron took home his record-breaking fifth Selke Trophy as he showed no signs of slowing down. He also showed off his offensive ability as he scored 25 goals to go along with 40 assists and 65 points. While there is no question about Bergeron's ability to play, the long-time Bruin still remains unsigned. Reports have surfaced over the last couple of weeks that Bergeron plans to return to Boston, and a contract is in place, but the Bruins are just waiting on his signature. It seems all signs point to a return, but at this point, it's a waiting game, and the only person who knows if he will sign is Bergeron himself. It does seem he is waiting for general manager Don Sweeney to complete all his off-season signings and trades before he decides what to do moving forward. If he does choose to retire, he will leave a significant hole on the Bruins' top line and the locker room as he is a respected leader and a future Hall of Famer.
Nazem Kadri
The 31-year-old center is coming off a career year that ended with him winning a Stanley Cup. Kadri was essential for the Colorado Avalanche and is now ready to cash in on that success. Kadri brings a mixture of goal-scoring and hard-nosed style of play that sometimes sees him cross the line. While many see this as a downfall, at the end of the day, Kadri is the guy you want playing on your team and not against you.
Kadri finished last season with career highs in points (87) and assists (59) while also scoring 28 goals. In the playoffs, he added another seven goals and eight assists for 15 points across 16 games, increasing his value as he showed he's a proven winner and can produce when it matters most.
With Johnny Gaudreau off the board, Kadri is the top forward still available. In a league that values centers, it's surprising he hasn't been signed yet. Kadri is looking for a long-term deal that will pay in the $7.5 to $8.5 million a season range which many teams may be cautious about, given his age. It was reported that the Calgary Flames made an offer but were declined. Other reports are surfacing that there are multiple teams in on Kadri, but they must clear cap space before making an offer which could take some time.
John Klingberg
The disgruntled former Dallas Star defenseman is still without a team even after being the premier defenseman on the market this off-season. The offensive-minded Klingberg is looking to get paid as reports have indicated he's looking for a payday of $8 to $9.5 million annually. Even with his production dipping, the 29-year-old is still excellent on offense as he's coming off a season that saw him score six goals and tally 41 assists for 47 points in 74 games. Just like Kadri, the age, term, and price he is looking for has caused teams to take their time as they have to clear cap space and decide if the player is genuinely worth the money.
The latest buzz surrounding a potential landing spot for Klingberg is the Detroit Red Wings as general manager Steve Yzerman is going all in this off-season as he finds balance on his roster between his young talent and established veterans. The Red Wings already have their top right-shot defenseman in Moritz Seider, who just won the Calder Trophy and posted an incredible rookie season for a 21-year-old defenseman. The idea of paying an aging defenseman $8 to $9.5 million annually to play on your second pairing would be head-scratching, so it's safe to assume if he lands in Detroit, it's more around the $6 to $6.5 million a season range.
Phil Kessel
While Kessel may not be the 30-goal plus scorer he once was, the 34-year-old is still a sniper in this league and has value for a team looking for added firepower to their offense. Kessel is coming off a season that saw him score eight goals and tally 44 assists for 52 points for the Arizona Coyotes. Even on an awful team, Kessel finds a way to create for teammates. Kessel won't break the bank at this stage in his career and would be a good addition for a contender looking for secondary scoring. On the right team playing with talented players Kessel can still produce a 20-goal season and brings playoff experience as he has 34 goals and 47 assists for 81 points across 96 postseason games to go along with two Stanley Cups.
Once teams figure out their cap situations after RFAs get their salaries from arbitration, expect a team to come calling for Kessel's services. It's just a waiting game now for the former 5th overall pick who is the active leader for the iron man streak as he has played in 982 consecutive games and counting.
Nino Neidereiter: Update signed 2-year $8 million with Nashville
The 29-year-old right winger should have more buzz around his name as he's a capable scorer. He has posted back-to-back 20-goal campaigns for the Carolina Hurricanes and, with a 6'2″ 218-pound frame, is a big body winger teams would love to add. The veteran winger left Carolina to test free agency but at this point in time it seems the grass isn't alway greener as he remains unsigned. While he hasn't been a player that has produced high point totals he is a player that will get you goals. While many expected him to switch teams especially after the Hurricanes added so many new faces it seems he may find his way back home. In 732 career games he has scored 181 goals and tallied 187 assists for 368 points while registering a plus-66.
If a team wants to add a veteran winger who can slot into their middle six they better give him a call before the Canes lock him as the later it goes into free agency the more it seems he will return to Carolina. A team like the New Jersey Devils could give him a call as he would slot into their third line alongside Erik Haula giving the Devils a veteran line to compliment all their young players. The Devils are one of the few teams that still have cap space to work with and seem ready to add veterans to the mix to take that next step in competing.
Honorable Mentions
P.K Subban, Paul Stastny, Sonny Milano, Will Butcher, Louie Eriksson and Anton Stralman.
The boys are back after a long break but have plenty to talk about as the playoffs are in full swing. We go series by series, looking at how teams have fared so far and who will come out on top. Thanks for listening! Please rate and review our show on your favorite listening platform. Check out our partner's website at www.insidetherink.com for all your latest hockey news.