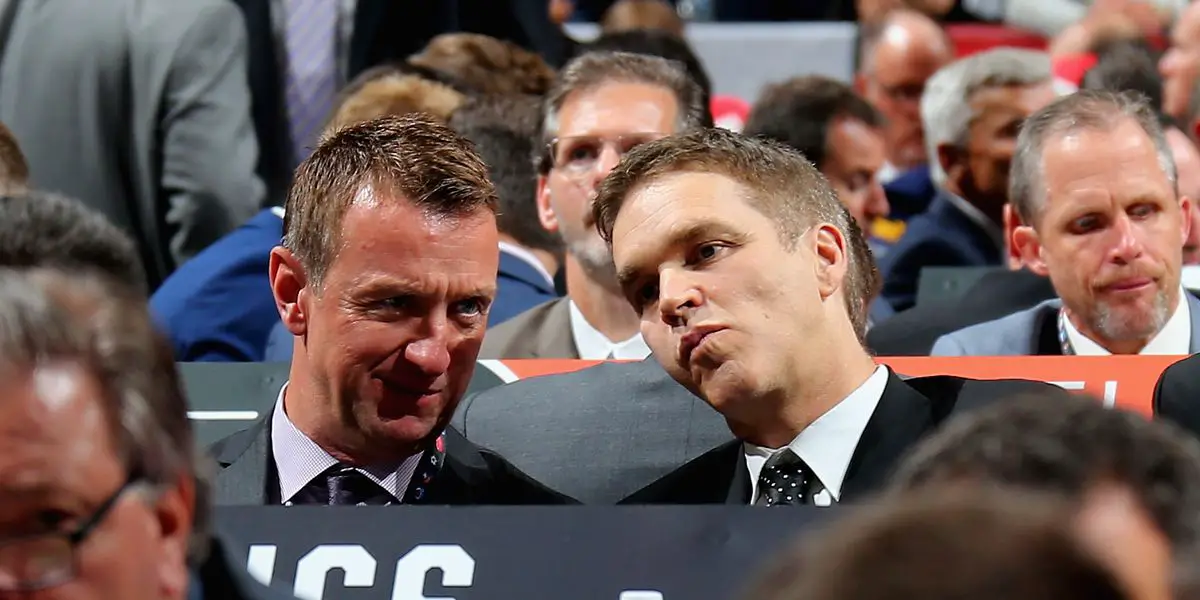 Coming off of a ninety-nine-point season in 2021-22, it's safe to say the rebuild is over for the LA Kings. With a top-rated prospect pool beginning to bear fruit, it looks like even better days are on the horizon for the franchise. The Kings made the playoffs last season by finishing in third place in the Pacific Division; their sights will be even higher this season. With the turmoil previous season's division champion, Calgary Flames, are experiencing and perennial favorites the Vegas Golden Knights appearing to take a step back, the door seems open for the Kings to establish themselves as a Pacific Division power.
The Kings have a distinct advantage because they have one of the top-rated prospect pools in the National Hockey League. General Manager Rob Blake has been careful not to rush his vaunted prospects into the NHL. Taking the slow and patient route has allowed players like Blake Lizotte, Trevor Moore, and Carl Grundstrom to establish themselves as legit NHL players and valuable parts of the Kings roster. With many of the roster spots spoken for, the prospects that want to play in the NHL this season will have great training camps to knock the established players out of their lineup spots.
Top 5 Free Agents Still Available
The LA Kings further improved their team for next season and beyond by trading for Kevin Fiala from the Minnesota Wild just before the NHL Free Agency window opened up. Blake surrendered no pieces off the current roster, instead sending the team's first-round draft pick in this season's NHL Entry Draft and the signing rights to defenseman Brock Faber – currently playing at the University of Minnesota. In Fiala, the Kings acquired a twenty-five-year-old winger coming off a career season. In 2021-22, Fiala posted thirty-three goals and fifty-two assists for eighty-five points. LA cemented the acquisition by signing Fiala to a seven-year contract extension.
As it stands right now, the Los Angeles King's opening night lineup stands to look like this:
Forwards
Fiala-Kopitar-Kempe
Moore-Danault-Arvidsson
Iafallo-Byfield-Kaliyev
Grundstrom-Lizotte-Kupari
Extras: Vilardi, Lemieux
Defensemen
Anderson-Doughty
Walker-Roy
Edler-Durzi
Extra: Moverare. Tobias Bjornfot is still waiver exempt where Moverare is not, so that Bjornfot could be sent to Ontario for the time being.
Goaltenders
Quick and Petersen
The thing to remember here is that the LA Kings have only $2.34 million in salary cap space left, and Michael Anderson, Sean Durzi, and Gabe Vilardi all need new contracts. With no LTIR space available, Rob Blake and the company will have to get creative to squeeze this lineup under the cap by opening night. Even with their current cap crunch, the Kings have been linked to three of the biggest names rumored to be available via trade: forwards Matthew Tkachuk and Patrick Kane, as well as defenseman Jakob Chychrun. The question is, which one of these players if any, would the Kings be able to acquire? Let's take a look at each one.
Matthew Tkachuk
Coming off the heels of losing superstar Johnny Gaudreau via free agency, the Calgary Flames are now bracing themselves for losing another superstar in Matthew Tkachuk. The twenty-four-year-old winger is coming off his best season yet – scoring forty-two goals and sixty-two assists for 104 points. Tkachuk is a restricted free agent with a qualifying offer of $9 million this season. He has also made it clear he does not want to sign with the Flames long-term, which will essentially force a trade out of Calgary. If another team were to offer him a contract via free agency, it would cost that team four first-round picks since the agreement will have to be for at least $9 million per season. Potential trade partners are already lining up to acquire Tkachuk's services, so the price to bring him in via trade will likely be at least the equivalent of four first-round picks.
Patrick Kane
If the Calgary Flames are in turmoil, the Chicago Blackhawks are in a tailspin. After trading Kirby Dach and Alex DeBrincat, the rebuild is officially on in Windy City. Only Jonathan Toews and Patrick Kane remain from the Blackhawks teams that won three Stanley Cups in the 2010s; it appears that Kane is on the trading block.
Patrick Kane is still performing at an elite level at thirty-three years old. On a Blackhawks team that finished well out of a playoff spot last season, Kane still scored twenty-six goals and sixty-six assists for ninety-two points and poured in 287 shots on goal. He has one season left on his contract, which carries a salary cap hit of $10.5 million, with reports circulating that the Hawks are willing to retain 50% of the cap hit to help facilitate the right trade. For Kane to come to the Kings, Chicago would have to maintain half of the cap hit for hockey's version of "showtime" to go to LA.
Jakob Chychrun
There's that name again, as the Kings have been linked to Chychrun for months. The twenty-four-year-old is everything the Kings have been coveting in a defenseman – size, offensive capabilities, a left-hand shot, and perhaps most appealing, a very team-friendly contract for the next three seasons with an AAV of $4.6 million. His current team, the Arizona Coyotes, has signaled a willingness to move the young defenseman, but the price will be high. They are in no hurry to trade him, and it has been said the price for acquiring Chychrun will be the equivalent of four first-round picks, which is a price that Rob Blake is thus far unwilling to pay.
The LA Kings have kept a roster together so far that surprised everyone by making the playoffs while adding Kevin Fiala in the process. They don't necessarily need to make another significant acquisition, but it would help them contend for the Pacific Division crown this season. As it stands right now, the Edmonton Oilers are the favorite to finish first, but the Kings proved in last season's playoffs they can hang with Connor McDavid, Leon Draisiatl, and company. That was before adding the firepower that Fiala will bring to the Los Angeles lineup.
The Kings have the prospects to facilitate just about any trade they want. Yes, there is always a risk in trading away young talent as they could turn into superstars, but the fact is, more often than not, that is not the case. The Kings are running out of time for how long they can keep prospects like Samuel Fagemo, Akil Thomas, Tyler Madden, Rasmus Kupari, and Bjornfot in the AHL without exposing them to waivers (Vilardi and Jaret Anderson-Dolan are now out of waiver protection) so they are going to have to figure out how to get them into the lineup by next season or risk losing them for nothing. With even more prospects like Martin Chromiak, Francesco Pinelli, Brandt Clarke, Helge Grans, Jordan Spence, and Kim Nousiainen expected to push for spots in the coming seasons, LA is bursting at the seams with young players they simply are not going to have enough room for.
LA is most likely out on the Matthew Tkachuk sweepstakes as the contract he will demand will be too much for their current cap situation. There is a chance, however, for them to bring in Kane or Chychrun. It will require the Kings to move out some salary (which they will probably have to do anyway) in the form of Alex Iafallo, Sean Walker, or perhaps there is another roster player the Hawks or Coyotes would want – in the case of Kane, could Arvidsson be a possibility? At any rate, if the Kings can make a deal to acquire either Kane or Chychrun, and it does not involve giving up Quinton Byfield, Brandt Clarke, or Arthur Kaliyev, they expedite that trade paperwork to the league office.
If the Kings do not make another big move this offseason, it will certainly not set them back. They have a solid lineup and should be a playoff contender. Standing pat will leave them with many assets available for the trade deadline should they load up for a playoff run. They also have about $10 million coming off the books next season, and those prospects will have another year of development under their belts. The future looks very bright in the city of angels.
The boys are back after a long break but have plenty to talk about as the playoffs are in full swing. We go series by series, looking at how teams have fared so far and who will come out on top. Thanks for listening! Please rate and review our show on your favorite listening platform. Check out our partner's website at www.insidetherink.com for all your latest hockey news.