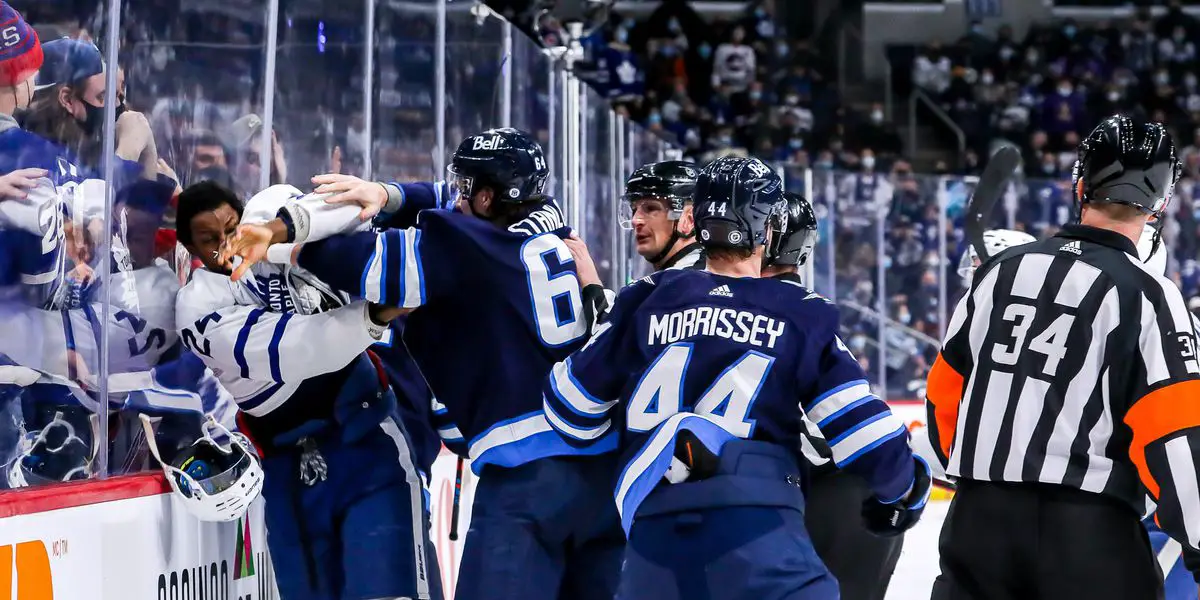 The Leafs head out on their first multi-game road trip of the season as they take on the Jets tonight. The Leafs currently sit at 3-2-0 and look to move that win column to four wins tonight as they look to build momentum throughout their road trip. Expect tonight's game to be a battle as Robertson continues to try and stay in the lineup, and Simmonds and Clifford make their season debuts.
Leafs Projected Lineup
Forwards
Robertson – Tavares – Nylander
Aston-Reese – Kerfoot – Järnkrok
Clifford – Kämpf – Simmonds
Defense
Rielly – Brodie
Sandin – Holl
Giordano – Mete
Goalies
Samsonov
Källgren
Jets Projected Lineup
Forwards
Connor – Scheifele – Appleton
Perfetti – Dubois – Wheeler
Barron – Lowry – Maenalanen
Gagner – Gustafsson – JonssonFjallby
Defense
Morrissey – Pionk
Dillon – Schmidt
Stanley – DeMelo
Goalies
Hellebuyck
Rittich
Three Things to Look Out For
Wayne Simmonds
After passing through waivers at the start of the season, Wayne Simmonds is now in the lineup for his first game. Many assumed that his first game in the NHL this year would be with a different team, but Simmonds is getting the shot tonight due to cap space and a slow start for the Leafs. After being recalled, Simmonds stated that he wants to do everything possible to stay with the Leafs, and I'm sure he will look to try and make that a reality with some solid play tonight.
Kyle Clifford
Like Simmonds, Clifford didn't make the Leafs out of camp, but due to a recall, he will draw into the lineup tonight. Clifford is giving Engvall a chance to rest, as Engvall hasn't looked like his usual self since returning from an ankle injury. Many may be curious why Malgin isn't the one drawing into the lineup in place of Engvall, but if you watched some of the games last year between the Leafs and the Jets, you would likely notice that the games got quite physical. Having Clifford and Simmonds in tonight will ensure no one can take a run at the Leafs' players and get away with it.
The Third Line
Tonight with Engvall sitting, Aston-Reese will be promoted to the third line. The third line so far this year has been solid defensively but has not contributed much offensively. With a healthy Aston-Reese on their line, it will be interesting to see the difference today vs. the rest of the games this season. I imagine this line will be the shutdown line, but I could also see offense coming off of an Aston-Reese or Kerfoot forecheck. Is tonight the night we see the Järnkrok shot that we saw in his preseason debut with the Leafs?
Predictions
This is a new segment of the pre-game articles, where each game, there will be three predictions that will be answered between our Leafs' writing team, Leafs' Late Night team, and a coin flip. We will track it throughout the season to see who is the most accurate! The coin flip will always have heads as the home team and tails as the away team.
Who will walk away with the win tonight?
Nathan: Leafs
Josh: Leafs
Mike: Leafs
Steph: –
Johnny: Leafs
Coin: Jets
Who will score first? Jets or Leafs?
Nathan: Leafs
Josh: Leafs
Mike: Leafs
Steph: –
Johnny: Leafs
Coin: Jets
Will the number of fights tonight be over or under 1.5?
Nathan: Over
Josh: Under
Mike: Over
Steph: –
Johnny: Over
Coin (over=heads, under=tails): Over
You can catch tonight's game between the Leafs, and the Jets live at 7:00 pm EST on CBC, CITY, or Sportsnet.
Thanks for reading! Feel free to follow me on Twitter @nathan_bondy.
Appreciation in Leafs Nation – RD2 GAME 5
–
Leafs Late Night
WELCOME BACK TO LEAFS LATE NIGHT! Presented by Inside The RinkRoscoe / Fanalyst / Galaxy Biehn / Marty From Keswick- We Didn't Want Florida- Rielly Robbed- Roscoe vs. Fanalyst: What Was The Deciding Factor?- Does The Regular Season Matter?- Leafs Nation Stays *mostly* PositiveMERCH IS AVAILABLE!JOIN OUR DISCORD!Remember to follow us on Twitter @LeafsLateNight & IG @LeafsLateNightCheck out Mike, Josh, and Nathan's articles on the Leafs + many more! insidetherink.com