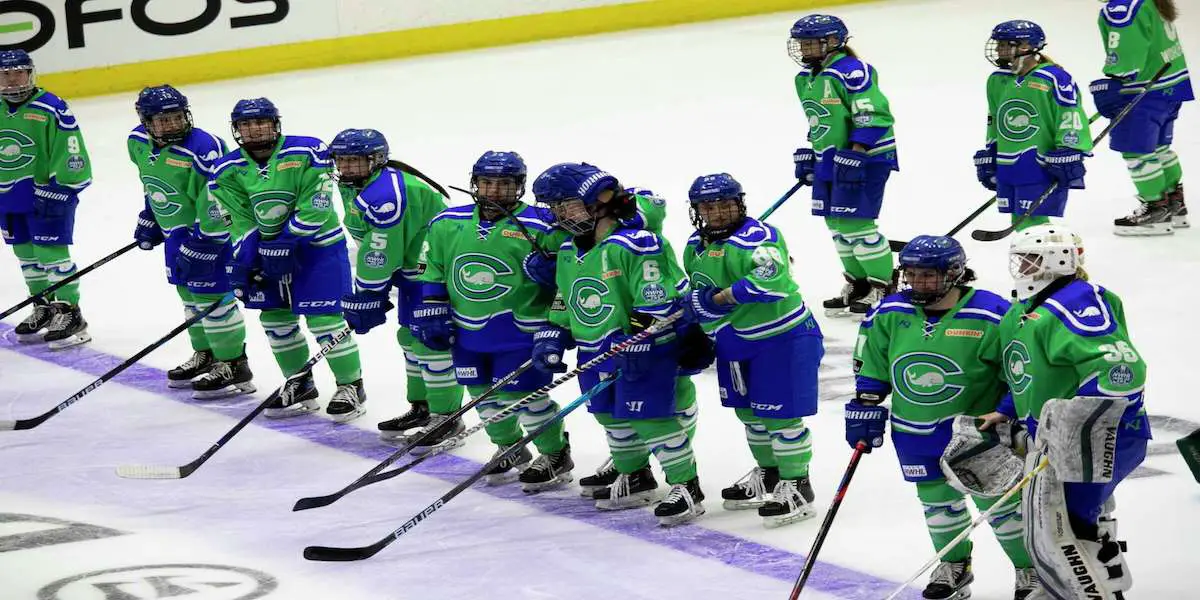 Four days in a row, the CT Whale have re-signed players for the upcoming PHF season. Their roster total now stands at 16 with Janine Weber, Emma Keenan, Meeri Räisänen and Kateřina Mrázová returning.
August 15- Janine Weber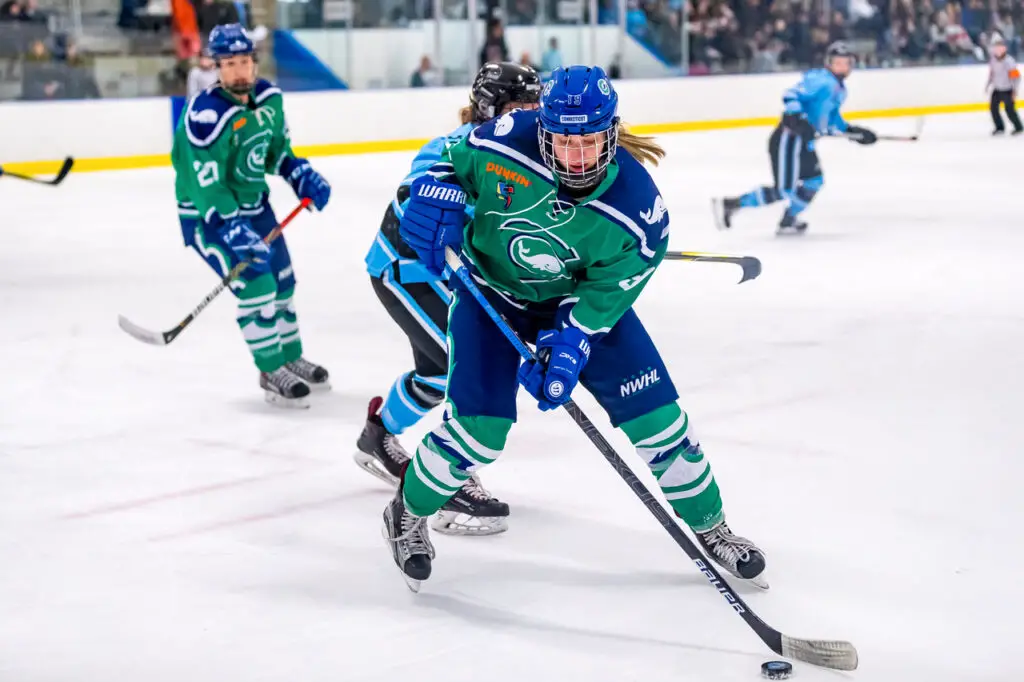 Alternate Captain and veteran forward Janine Weber re-signed with the Whale early on Tuesday. This will be her fourth season in Connecticut.
Originally from Innsbruck, Austria, she is a huge part of their national team. She has been to 10 senior-level IIHF events and four Olympic qualifiers. She has several awards and medals in international play, including most recently a 2017/18 World Championship (D1A|W) Silver Medal. 
She has also played several seasons in the European Women's Hockey League (EWHL), playing for the EC The Ravens Salzburg (2006-09) and EHV Sabres Wien (2009-13). She played 110 league games and had more than 100 goals and 200 points. She was also crowned an EWHL Champion, Twice.
In the US, she was one of the first free agents to sign to the NWHL. She started her NWHL/PHF career in 2015 with the Metropolitan Riveters (NY Riveters at the time). She made an All-Star game appearance, and she was leading the team in scoring by her second season. Webber signed with the Boston Pride in 2017/18. She played one season with them, appearing in 13 games and registering 7 points (3 goals, 4 assists). In 2019/20, Weber finally found her home in Connecticut. She recorded 4 points in 8 games in her first season with the Whale and has improved each season. The 2021/22 season was her best, with 13 points (5 goals, 8 assists) in 16 games. She is tied for fifth in Whale scoring after that season and helped the Whale to a record-breaking season. They finished first place in the regular season standings for the first time in franchise history and advanced to their first Isobel Cup final. She also has the tenth most games played of a PHF player (76 games) and the 12th most all-time regular-season points (5).
Weber said in the team's release, "I'm really excited about coming back for another season with the Whale. We had such a fun and hardworking group last year, and it's great to see a lot of our core players returning for another season. I feel like we have some unfinished business, and I can't wait to get started and welcome some new exciting additions to the team."
She brings a leadership presence to an already solid group of forwards. 
Weber signed a one-year contract valued at $36,000.
August 16- Emma Keenan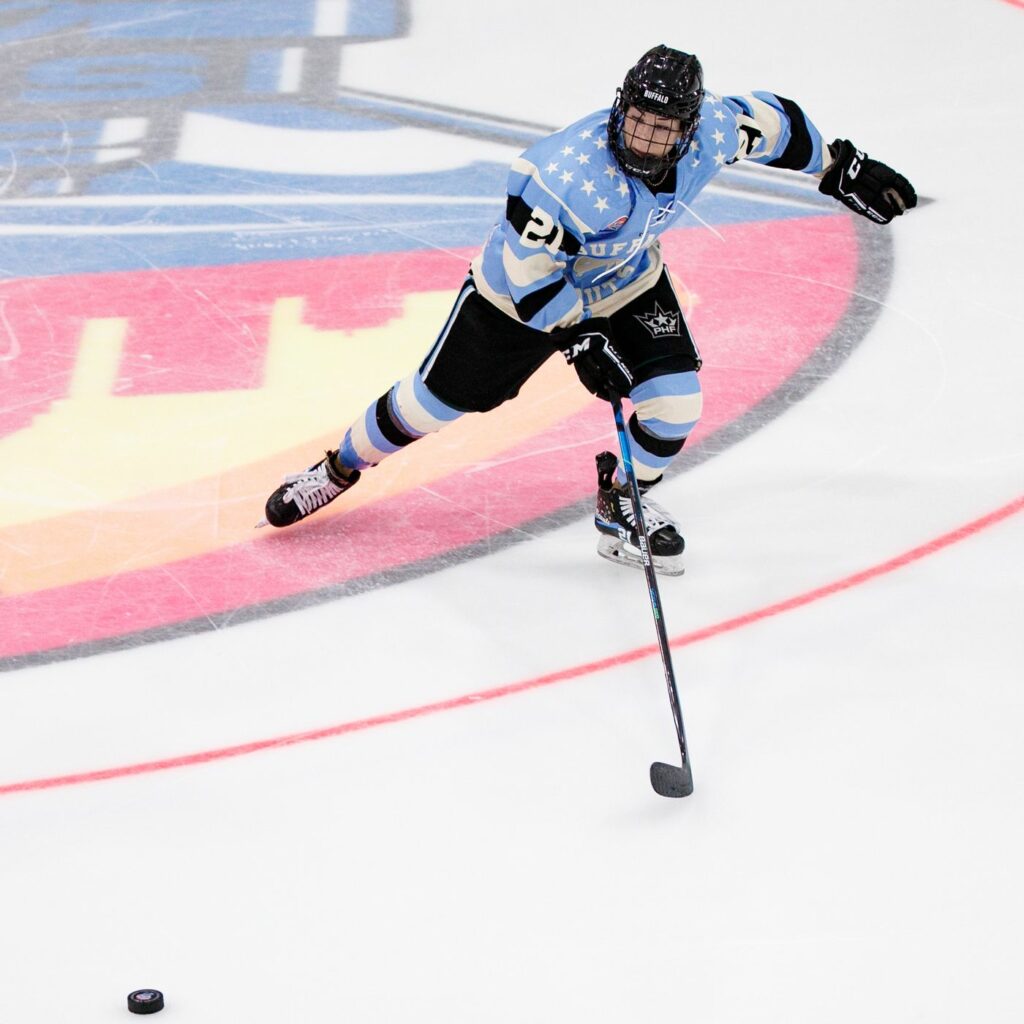 This will be Keenan's second season in the PHF and first with the Whale. Last season, she played for the Buffalo Beauts in 20 games, registering 6 points (3 goals, 3 assists). Her first career multi-point game was on February 6, 2022. She scored a power play goal in the first period and assisted on the period two game-winner against the Minnesota Whitecaps. 
The 24-year-old Mission-Viejo, CA native, played her collegiate hockey at Clarkson University in Postdam, New York. She had an outstanding career with the Blue Knights and won back-to-back national championships in 2017 and 2018. In her senior season (2018/19), she played forty games, scored three goals, and had 18 assists for a career-high 21 points. That season, she also finished third among the nation's defenders in plus/minus (+76). 
After four years leading Clarkson's blue line, Keenan went overseas to play for Göteborg HC of the Swedish Women's Hockey League (SDHL). In her first season there (2019/20), she registered 17 points, tying the team lead. She played 66 games in Sweden, scored 11 goals, and had 11 assists. 
Keenan is tough to play against. She moves the puck well, is an excellent skater, and is not afraid to throw herself in front of a puck to block a shot, a real challenge for opposing scorers. 
Keenan adds strength to an already strong blue-line that includes Allie Munroe and last year's captain, Shannon Turner (Doyle). The Whale are forming a real brick wall on the back end.
Additional agreements of her contract will not be disclosed
August 17- Meeri Räisänen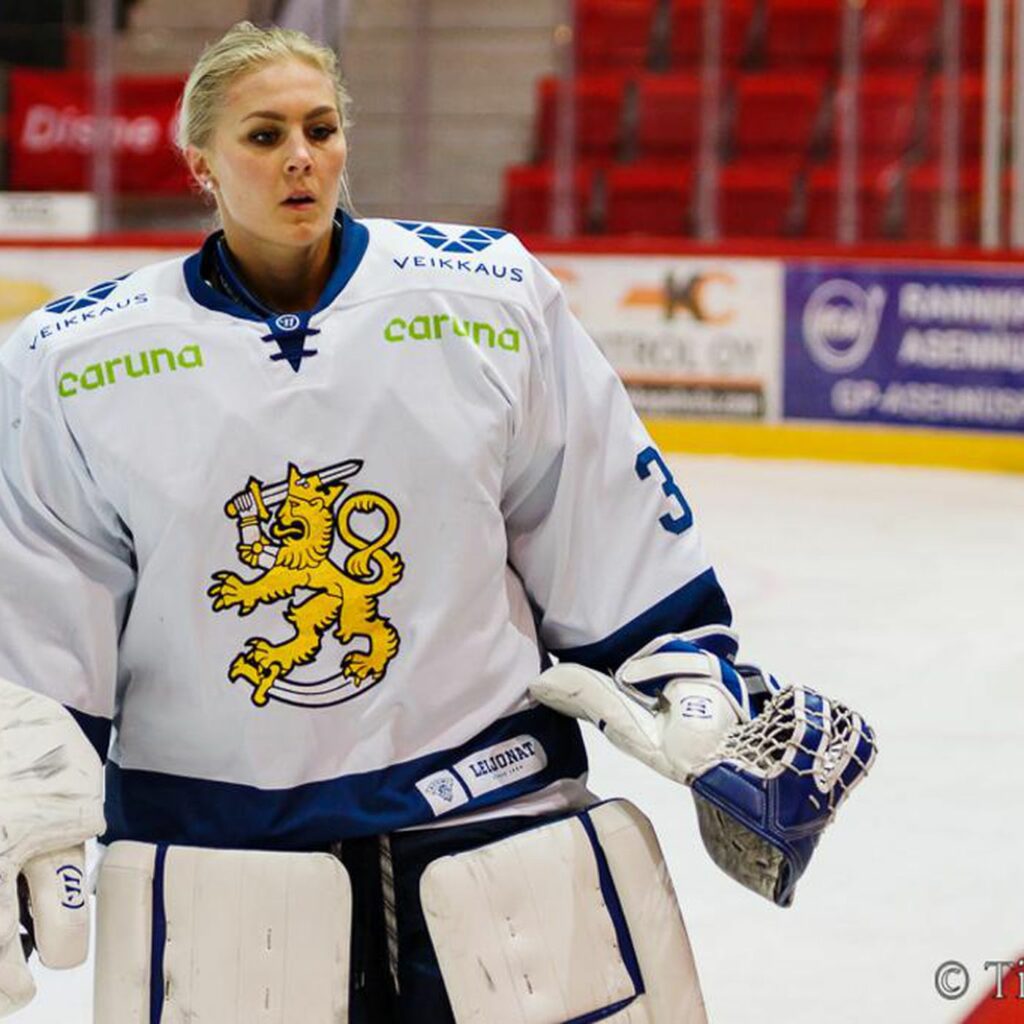 Räisänen enters her fifteenth year of professional hockey with the Whale this season. She last played for them in the 2018/19 season before spending three seasons playing in Europe.
A native of Tampere, Finland, Räisänen made her hockey debut when she was 17 in SM-sarja, the predecessor to Finland's top-division women's league, Naisten-Liiga. In 2009, she played for the Espoo Blues and won the Finnish League title, Aurora Borealis Cup. Räisänen played three playoff games that season and posted a .906 save percentage. In 2011/12, she played one season of NCAA hockey for Robert Morris Univerisity (.889 save percentage) and made her senior Team Finland debut. The team finished fourth at the IIHF Women's World Championships. Räisänen started in 3 games and had a .800 save percentage. Now 32 years old, she has suited up for Team Finland in over 80 games and earned two Olympic bronze medals (2018, 2022), two World Championship bronze medals (2015, 2021), and was named a World Championship All-Star twice. (2015, 2016).  
Räisänen is no stranger to awards. In addition to all her international accolades, she earned back-to-back Tuula Puputti Awards for the league's best goaltender and back-to-back end-of-season All-Star nominations in 2012/13 and 2013/14 and was a finalist for PHF MVP in 2019. 
The CT Whale was her first professional contract in North America. On November 18, 2018, she won her debut game against the Metropolitan Riveters, 2-1. Räisänen finished the season with nearly 350 saves through 12 games and a .908 save percentage. 
She completes the goalie tandem with dependable Whale star Abbie Ives. It will be interesting to see who the main starter is, but either way, the Whale are set in goal.
Räisänen has been named to Finland's 2022 IIHF Women's World Championship roster. The tournament will be held in Herning and Frederikshavn, Denmark, from August 26 to September 4. Several PHF players have also been named to their national rosters or are currently being looked at.
Additional agreements of her contract will not be disclosed
August 18- Kateřina Mrázová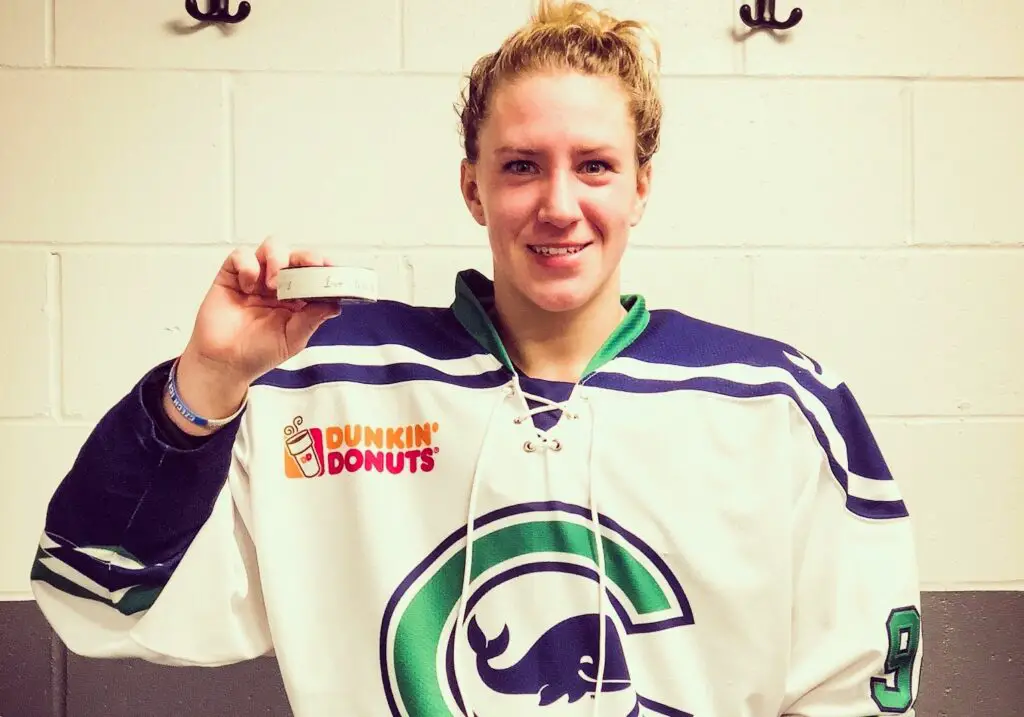 Finishing up their week of singings, the Whale brought back forward Kateřina Mrázová. Like Räisäen, Mrázová made a signle season appearance in 2018/19. She played 15 games with the Whale and registered 12 points (6 goals, 6 assists). In the release, Head Coach Colton Orr said, "She was one of our top priorities this offseason, and we couldn't be happier to welcome her back to the Pod." 
Mrázová has spent most of her career in Europe. A native of Praha, Czechia, she has been a staple member of the national team. She has played 157 games for the national team and registered 131 points (45 goals, 86 assists). She debuted with them in 2007/08 with the U18 team and quickly excelled at the senior level. She has attended three IIHF U18 Women's World Championships, seven World Championship events, four Olympic Qualifying events, and the 2022 Olympic Games in Beijing. At the Olympics, she was an alternate captain, appearing in 5 games and scoring 1 goal. Czechia finished 7th overall. She has already made the roster for the 2022 IIHF Women's World Championships in Denmark. It will be her fifth top division tournament appearance. 
She has spent the last three seasons in the SDHL with Brynäs IF. She has played 109 (regular and postseason) games with them, registering 209 points (65 goals, 141 assists). She won two SM silver and was awarded the Golden Helmet in the 2020-21, an award given to the most valuable player in the SDHL.
Mrázová played for the University of Minnesota Duluth from 2013 to 2018. Over five years, she played 117 games, scored 25 goals, had 50 assists, a total of 75 points. Her best season was 2014/15, she played 37 games and had 25 points (7 goals, 18 assists). She made her professional North American debut with the CWHL's Boston Blades. She had 21 regular season games with one goal and one assist. She made history that season when the Blades defeated the Montreal Stars 5-2 to win the Clarkson Cup. Mrázová was the first European player to win the CWHL Clarkson Cup; it was also the Blades' first championship win.
Mrázová is excited to be back with the Whale. She has been following the team this past season and can't wait to start the chase for the Isobel Cup. She brings depth to an already deep team. Mrázová is a great addition on and off the ice. She can control the pace of the game, understands the mental side of the game well, and will be a role model for younger players. Her leadership and elite character may be the biggest advantage of this move for the Whale. Winning the Isobel Cup will take focus and discipline, players like Mrázová bring that. 
Additional terms of her agreement will not be disclosed.
All these moves say the Whale mean business this season. Their roster is almost complete and they have depth at positions. They are becoming serious contenders for the Isobel Cup and this season is poised to be a great one for fans.