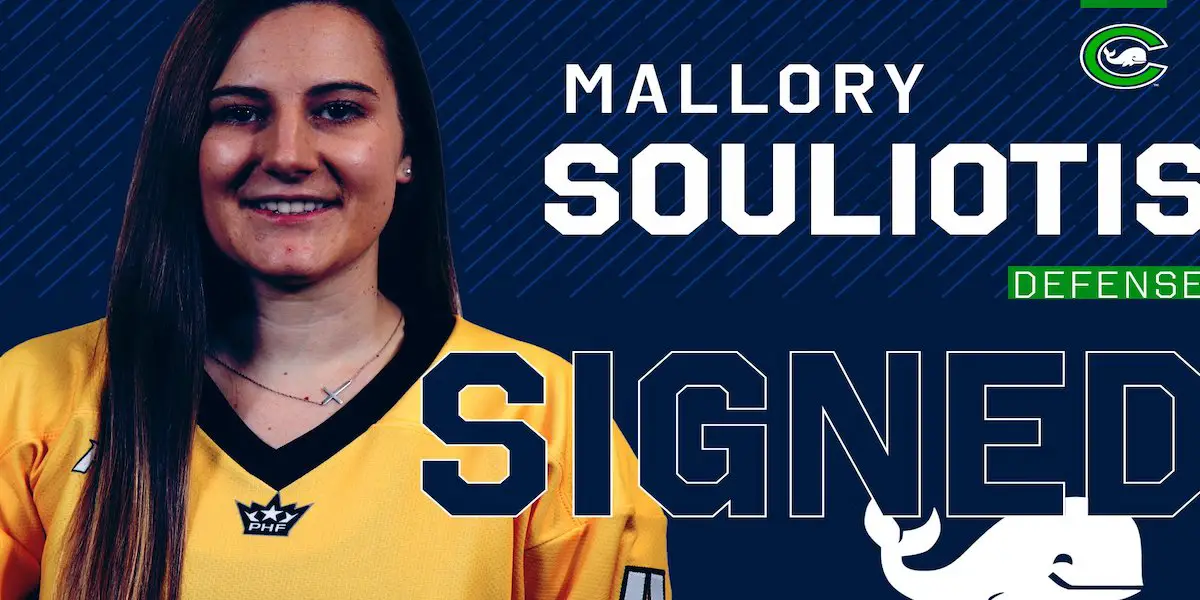 After a quiet couple of weeks, the Whale returned with a steal. Boston's Mallory Souliotis will be playing in Connecticut this season.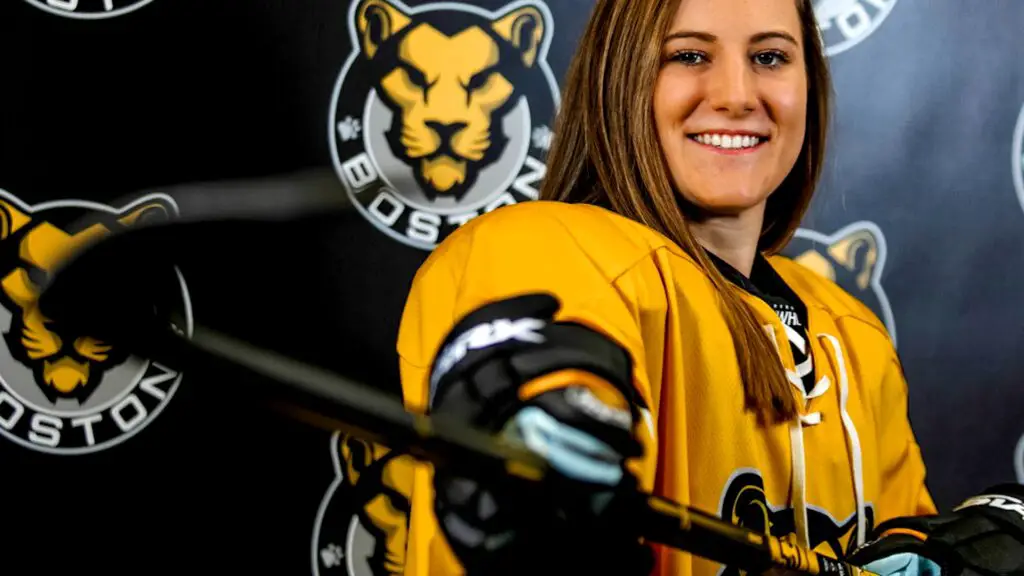 The twenty-six-year-old defender started her hockey career at Noble and Greenough School in Dedham, Massachusetts. She was named to the NEPSAC Division 1 Second All-Star Team in 2014 for her performance at the school. She also participated in the Team USA Development camp in 2010, 2011, and 2013, earning recognition as a National Development Camp All-Star in 2013.
Souliotis started to make a statement when she played NCAA hockey with the Yale Bulldogs. During her collegiate rookie season, she registered nine points (one goal, eight assists) in 26 games and a 7+/- rating. By the end of that season, she was named the team's Wendy Blanning Award winner for the most improved player and was an Eastern College Athletic Conference (ECAC) Hockey All-Academic. Souliotis greatly improved in her sophomore season. She had 25 points in 29 games. She was the school leader in scoring and had the third-highest single-season total assist in the university's history with 21 assists. Her junior season was milder, with 12 points in 31 games, but she did break a pane of glass with her slapshot.
Her senior season was stellar. She led the team with 20 assists, tied her career high with four goals, and was second in points on the team (24 points in 31 games). She was also the leader for all Ivy Defenders in points and was named to a First Team All-Ivy, All-New England Team, and a Third Team All-ECAC.
That year, she was also drafted 8th overall to the Boston Pride, singing her first professional contract on March 1st, 2018. She played the last two games of the season with the Pride, including their quarterfinal loss in the Isobel Cup playoffs.
In her first full season with the Pride (2018/19), she played 14 games with a 9+/- rating, three assists, and three goals, including her first professional goal in a 5-2 win against the Metropolitan Riveters. She was the 2019 PHF (NWHL) Foundation Award winner, an award given to a player on each team that recognizes a player who applies the core values of hockey to their community and improves hockey culture.
After the collapse of the Candian Women's Hockey League in May 2019, Souliotis joined the PWHPA so she could participate in the North American Women's Hockey strike. She had shown support in 2017 for the 2017 American National Team strike, wanting female athletes to get better treatment and more compensation. Due to unclear answers and lack of organization from the PWHPA, Souliotis re-signed with the Pride in June 2019. Her third season saw her score her career-high 16 points in 22 games. This was fifth among PHF (NWHL) defenders. The Pride were almost undefeated and made it to the Isobel cup finals before the season was cut short due to the COVID-19 pandemic. Over the next two seasons, the Pride won back-to-back Isobel Cups, becoming the first team in PHF history to do so, and Souliotis played a total of 27 games with 8 points registered.
For 2022/23, Souliotis signed with the Connect Whale. In the team's announcement, Souliotis said, "I am extremely excited to join the Whale next season! Connecticut has always had a special place in my heart after my four years at Yale, and I could not be happier to come back and represent the Whale. There are some incredible players loaded with talent and skill, and I am grateful for the opportunity to join them as we battle to bring Izzy to Connecticut this season."
This could be a really special season for the Whale. Souliotis is their 19th signing this off-season and adds strength to an already strong team. She has a physical style of play and a powerful shot she always puts on net. She is an incredibly reliable defender who consistently ranks among the best players in her league in plus/minus. She compares her style of play to NHL defender Torey Krug. Souliotis brings grit and poise to the defensive zone; she can block a shot as well as she scores one and brings championship experience to the Whale. Head coach, Colton Orr, says, "She will be a nice compliment to the rest of our defense group."
Off the ice, Souliotis is a major leader in her community. She graduated from Yale with a Bachelor's degree in biomedical engineering and is currently working on a master's degree in bioengineering at the University of Maryland. She also works as a full-time scientist doing oncology research in Massachusetts and ties her love of hockey and science together.
In the 2019/20 season, she all her pledged jersey and shirsey sales to Epilepsy Foundation New England and Slap Out Epilepsy. That year she also ran a summer camp for girls' hockey called Mallory's Hockey Clinics along with Kaleigh Fratkin and Devan Taylor. She wanted to create a camp that was all girls because she would have benefited from that when she was young.
Scoliosis is a great signing for the Whale, on and off the ice. Only time will tell, but the Whale are looking like a champion team already.
Follow us on twitter @checkin_tendiesfind us and our links https://linktr.ee/checkin_tendiesread more about all we talked about on insidetherink.com