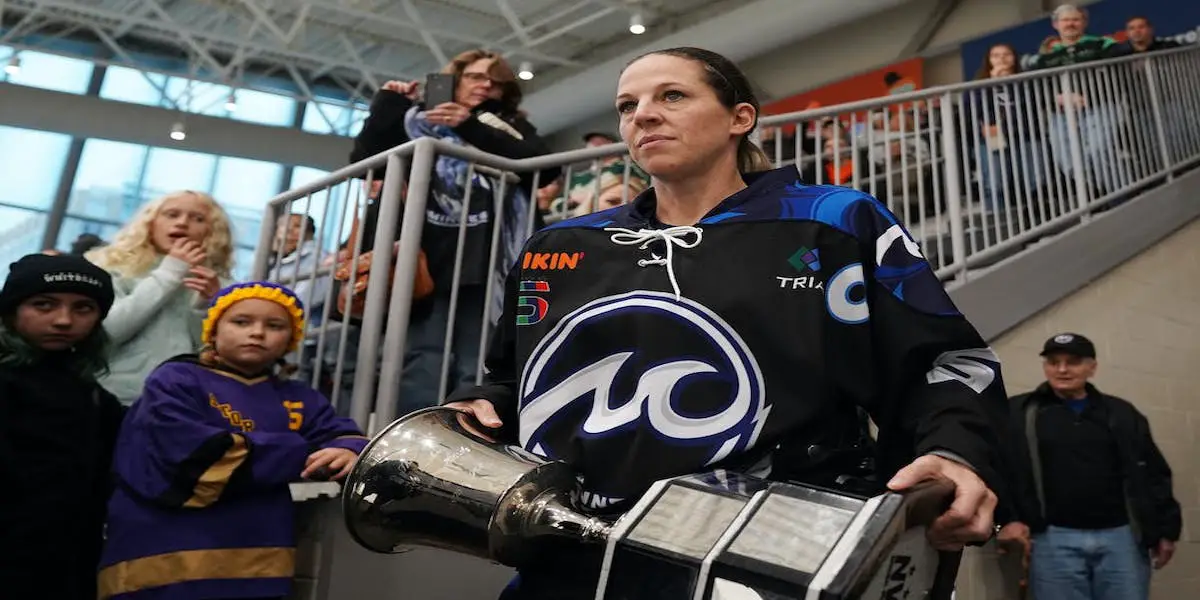 After a very long career, Winny Brodt-Brown is retiring. The Minnesota Hockey icon has been playing since 1995, setting records and redefining what it means to be a women's hockey player.
Brodt-Brown's hockey career started at Roseville Area High School. In her senior season (1995-96), she led through an undefeated season to the Minnesota state title. Brodt-Brown finished the season with 62 goals and 61 assists in 31 games. That year, she also became the first winner of the Minnesota Ms.Hockey Award, an award given to the state's best girl's hockey player. She had to play club hockey before moving to NCAA and took the McGovern's club to the state title, registering 64 goals and 128 points in her short time with them.
Once she made it to the NCAA, Brodt-Brown kept the sensation going. She played for the University of New Hampshire Wildcats for one season. In her short time there, she played 39 games, registered 11 goals and 34 points, won the AWCHA women's ice hockey championship, and was recognized as the AWCHA tournament's Most Valuable Player.
Brodt-Brown transferred to the Minnesota Golden Gophers in the 1998/99 season. Playing close to home, her game took off. She started on defense but quickly moved to play center. She played 23 games that season, registering 14 goals, 31 assists, and 45 points. She was ninth in assists and tied for fifteenth in points in the entire NCAA. She led the team in plus/minus with a 52+ rating. She also had nine three-point games and 14 multi-point games. She missed 11 games in the 1999/00 season due to injury, but she still set records. She had 50 points and was ranked second among NCAA defenders.
On January 11, 2000, the Gophers beat Bemidji state 11-1, and Brodt tied a Gophers record with five assists in a single game. February of that year, the Gophers had a two-game series against Dartmouth, where Brodt-Brown was part of the eight goals (one goal, scene assist). The Gophers swept Dartmouth with nine goals in two games. Brodt had multiple-point games in nine of the last twelve games in that season. She had sixteen multi-point games overall. Brodt scored a goal and had four points in the AWCHA National Championship. That was her second national championship in three years. She left Minnesota for one year to play for Team USA. She returned for her senior season in 2002/03, was named an alternate captain, and the team made the Frozen Four for the fourth time in five years. Her sister, Chelsey, was in her freshman season that year. In 34 games, Brodt-Brown had 14 goals, 25 assists, and 39 total points.
By the end of her time with the Gophers, she led all defenders with 134 points, 41 goals, and 93 points. She is one of the most successful Minnesota Golden Gophers of all time in men's and women's hockey.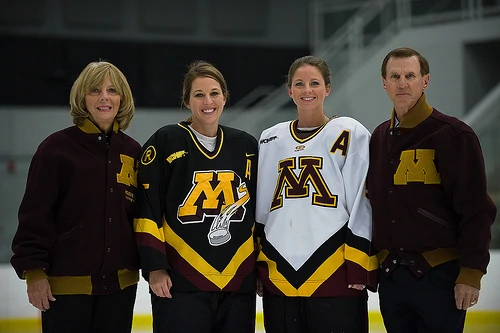 Brodt-Brown started playing for Team USA with the junior team in 1995 and 1996. She went to the USA Hockey Women's Festival three years in a row (1998, 1999, and 2000). She competed with Team USA in the Three Nations Cup in 1998 and went to the IIHF women's championship in 2000 and 2001. She played five games and did not register points, but the team won silver both times.
In 2004, the Minnesota Whitecaps formed. Brodt-Brown was one of the first players on the team. She played 12 games that first season with two goals and eight assists for 10 points. In 2006, her sister joined the team and they played together every season. In 2010, they won the WWHL's Clarkson Cup with the Whitecaps. Again, Brodt-Brown played twelve games with 10 points. The 2010/11 season was one of Brodt-Brown's best seasons in professional hockey. She played 18 games with seven goals and 14 assists for 21 points (a professional career high for her).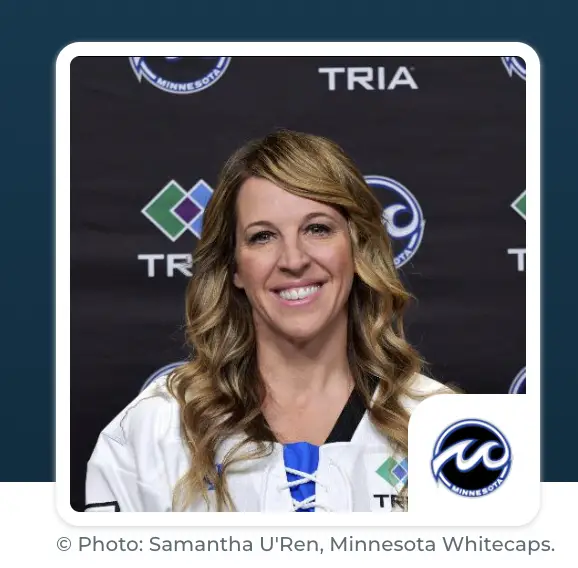 When the WWHL dissolved in 2011, both sisters stayed with the team while the Whitecaps were independent. They were Whitecaps all the way. In 2018, Brodt-Brown was named captain of the team and held the title for three seasons (18/19, 19/20, 21/22). The Whitecaps won the Isobel Cup in 2019, with Brodt-Brown as captain.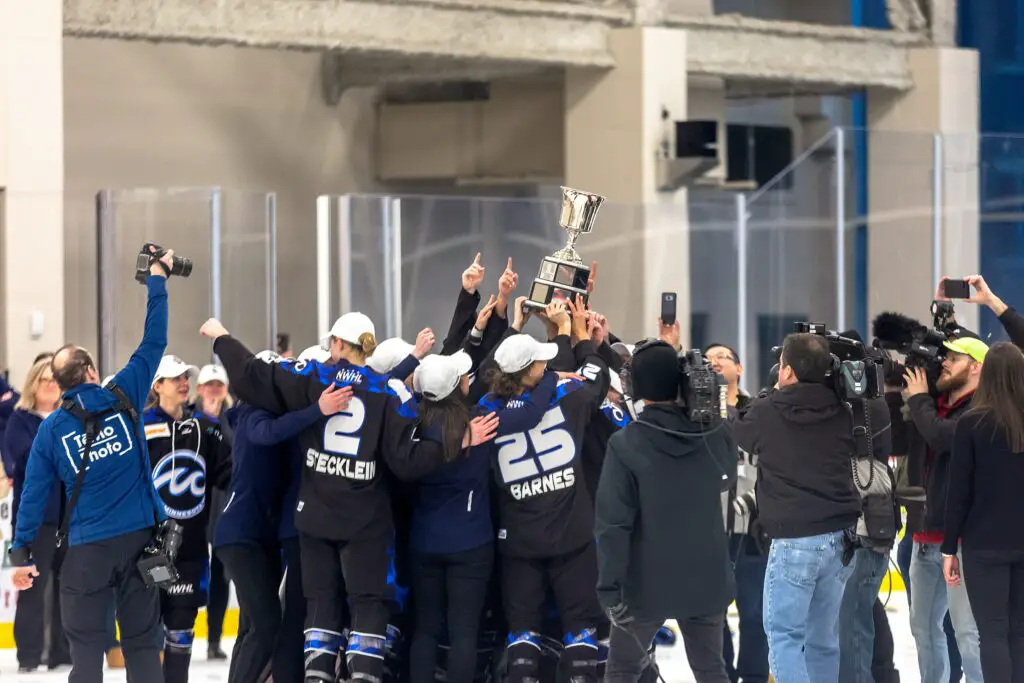 It is hard to summarize how much Winny Brodt-Brown means to Minnesota and women's hockey. She has been setting records for decades, inspiring generations of women's hockey players. In their announcement of her retirement, the Whitecaps described her career as "trailblazing," and Whitecaps goalie, Allie Morse, tweeted that Brodt-Brown was "An absolute legend. She made women's hockey what it is today in Minnesota and will continue to do so even if she isn't playing."
Her career is the definition of legendary. She shows it is possible to have a long career in women's hockey, that women can be successful in it, break records, and play their game. That inspires younger players to stick with it. With significant changes coming to things like player salaries and the league growing, more women and girls will get to have careers like Winny Brodt-Brown.
Her long and storied career will define women's hockey for generations to come. She will be missed on the ice, but congrats on retirement Winny Brodt-Brown.