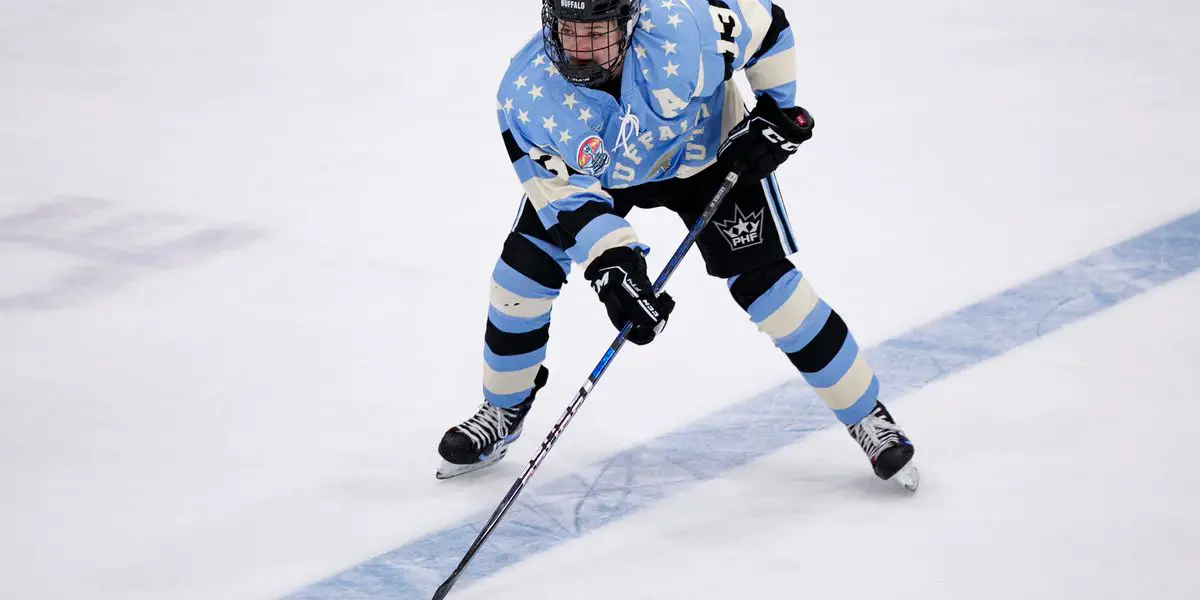 The PHF took a big step toward equity in women's hockey today. They announced a policy for players to disclose their salaries. This has been a big topic across the league and even came up in the press conference announcing the new team in Montreal. In the past, PHF contracts contained a clause stating that players could not disclose their salary publicly. It was unclear what the repercussions would be if a player did disclose their salary.
The new policy was created in partnership with the PHF players association for the 2022-23 season. It allows players to publicly disclose their salaries and contracts when they sign their standard agreement. Disclosing the salary is a mutual decision between the team and the player. Once both parties agree, a player's contract information may be shared by the player, team, and the PHF. Reagan Carey, PHF Commissioner, said, "The PHF's new era is driven by our commitment to provide enhanced professional opportunities for women's hockey players, including historic salary cap increases. We are excited to add another layer of growth and transparency to our League operations and to continue to prioritize player autonomy. This policy supports all athletes equally and without any pressure or influence towards those who may choose to disclose their salaries or anybody who may feel that confidentiality is in their best interest." The forms allow players to disclose the length of their contract, the estimated average annual value of the contract, and any singing bonuses they receive. It is up to the player's discretion how much information they want to disclose. The forms also provide players the option for no salary information to be disclosed. Commissioner Carey and Executive Director of the PHF Players' Association, Nicole Corriero, expressed that player autonomy was significant in this deal. Corriero said, "…every player's experience and circumstance is unique, and it is understood and appreciated that not everyone wants nor benefits from disclosing personal information. We wanted to work with the League on a policy that encourages and respects both of these mutually important considerations, and we're pleased that the result of our collaboration provides options that may benefit all." 
This policy is an essential step for the PHF's growth as a professional league. Transparency is vital for negotiations and establishing trust with players. The current salary cap for PHF teams is $750,000 (the minimum salary for an NHL player is $750,000). Making that gap more equitable starts with salaries being public." The Players' Association goals are centered on our core values of educating, empowering, and advocating for PHF athletes," said Corriero.  Allowing players to be open about salaries creates transparency and opens the door to honest conversations about the industry. The policy gives new players benchmarks for salary, assists them in making contract negotiations, and creates more collaboration between players and the league. 
Eighteen players have already signed salary disclosure agreements for the 2022-23 season. Buffalo Beauts player and PHF Defender of the year Dominique Kremer is one of them. Kremer re-signed with the Beauts in May. She was their first signing this offseason. 
She is under contract for a two-year deal with an AAV of $65,000, which includes a signing bonus of $6,500. "As the League continues to grow and move forward, I think it's important that we take steps to emulate other professional sports leagues to show that the PHF is here to stay. One way to do that is by disclosing the massive increases in salaries for PHF players," said Kremer. "Not only does it prove to people that the PHF is striding towards making professional women's hockey a full-time career, but it also gives that younger generation of girls something to work towards for their future. It's a very exciting time for the League and women's hockey, between record-breaking salaries, multi-year contracts, the addition of health insurance, and a myriad of other opportunities, and I believe that the best is still yet to come."
In addition to the disclosure agreement, the PHF is changing contract length. For the first time, players can also sign two-year agreements through the 2023-24 season and may receive signing bonuses up to 10 percent of their total contract value. In past seasons, PHF contracts were limited to only one year. Players can be with teams for longer, which means more job security. Many PHF players have jobs in addition to playing professional hockey. Longer contracts and more transparency are some of the first steps towards full-time hockey for players. Women's hockey is becoming a more viable career. 
This summer, there has been positive growth from the league with a new commissioner, a new team, and contracts. These new contract terms, along with the benefits provided by the PHF, makes them a leader in women's sports, set a new precedent for women's hockey, and shows promise for the league.
Here are the players whose contracts have been announced as of July 21 and who have provided signed consent to disclose their salary information. All individual player requests to disclose personal salary information that has been submitted to date have been supported by each of their respective team general managers:
Hannah Bates (CTW) $25,000
Ashleigh Brykaliuk (MIN) $45,000
Amanda Conway (CTW) $40,000 includes $4,000 Signing Bonus
Jonna Curtis (MIN) $50,000
Taylor Davison (TOR) $23,360
Emilie Harley (MET) $28,000
Jess Healey (BUF) $57,000 AAV includes $6,000 Signing Bonus
Tori Howran (CTW) $49,500 AAV
Carly Jackson (TOR) $29,375
Dominique Kremer (BUF) $65,000 AAV includes $6,500 Signing Bonus
Antonia Matzka (BUF) $22,000
Allie Munroe (CTW) $52,800 AAV includes $10,560 Signing Bonus
Madi Nichols (BUF) $13,500
Liz Schepers (MIN) $45,000
Emma Vlasic (CTW) $36,000
Alyssa Wohlfeiler (CTW) $42,500
Emma Woods (TOR) $44,340
Taylor Woods (TOR) $31,145
All player contracts above are for the 2022-23 PHF season unless listed with AAV, which means Average Annual Value and is applicable for two-year contracts through the 2023-24 PHF season.