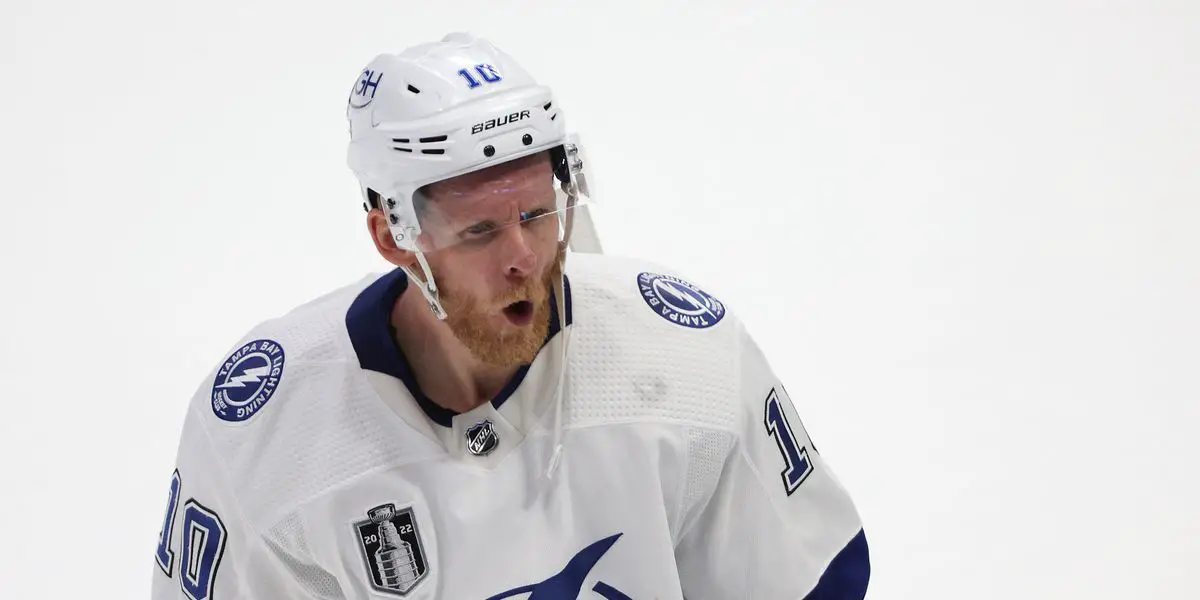 The Leafs had just about as bad of a start as Leafs Nation could have imagined in game one as they entered the first intermission down 3-0. Full credit to the blue and white, however, as they clawed their way back to within one goal in the first 13 minutes of the middle frame. Goals coming from Ryan O'Reilly and William Nylander, both on the power play. The Leafs were back within one goal, Scotiabank Arena was rocking, and Tampa was without Victor Hedman and Erik Cernak as they both left the game due to injuries. Everything was looking up for the Leafs, right? Well, not exactly. That brings us to tonight's three stars of the game: 
Tonight's First Star
1. Wes McCauley – Wes being the main character in a Leafs playoff game against Tampa. Stop me if you've heard this before. 
Luke Schenn was called for … cross-checking just 39 seconds after O'Reilly made it 3-1.
Then Kampf was called for … slashing just 48 seconds after Nylander made it 3-2, which led to the Lightning restoring their two goal lead. 
Two questionable calls against the Leafs coming after they scored is something, to say the least. 
In a series where we should be highly entertained by two heavyweight teams going pound for pound, back and forth, end to end, we instead had to watch a ref who is absolutely full of himself, be the main character once again. It's an absolute shame, and the NHL should be embarrassed with their decision to HAND PICK this guy to ref Leafs games, let alone playoff games. Here's why:
Tonight's Second Star: 
2. Corey Perry – this guy was around the puck the entire night and was a thorn in the Leafs side the second the puck was dropped to start the game. Perry scored one goal and added two assists, giving him three points in just 13:49 of ice time, which was very impressive from the 37-year-old veteran. His goal came on the power play at  17:54 of the second period to give the Lightning a 5-2 lead. While his first assist came on the opening goal of the game, and his second one came on the power play as he set up Point to increase the Tampa lead to 6-2. When the Lightning needed a shift in momentum or needed a response to a push from the Leafs, they always turned to Perry, and to his credit, he delivered. 
Tonight's Third Star: 
3. Brayden Point – this guy is flat-out goofy. He's so good it isn't fair. Not only does he have elite speed to go along with elite hands, but he also has an elite scoring touch to go with it! He was around the puck the entire night and delivered for the Lightning tonight as he scored two goals in 20:23 of ice time. His first goal came at 14:29 to give the Lightning a 4-2 lead. While his second goal of the game came with just two seconds remaining in the second period to increase the Lightning lead to 6-2 heading to the third period. 
While it wasn't an ideal opening game of the series for the Leafs, it was just that, one game. They need to put this one behind them and look forward to game two. The blue and white will look to bounce back and even up the series on Thursday night!
Leafs goaltender, in particular, will look to have a much better performance in game two. Here's how he summed up his play in game one tonight:
For more Leafs news and in-game tweets, follow me on Twitter @mikethefanatic! Also, be sure to check out The Leafs Late Night Podcast wherever you listen to your podcasts!
WELCOME BACK TO LEAFS LATE NIGHT! Presented by Inside The RinkRoscoe / Galaxy Biehn – Dubas Out?!?- Remember All The Good Times We Shared- I Don't Love Our Options- Matthews Next Deal?- Keefe's Fate- AI MascotsSPORTS! IS FUNMERCH IS AVAILABLE!JOIN OUR DISCORD!Remember to follow us on Twitter @LeafsLateNight & IG @LeafsLateNightCheck out Mike, Josh, and Nathan's articles on the Leafs + many more! insidetherink.com