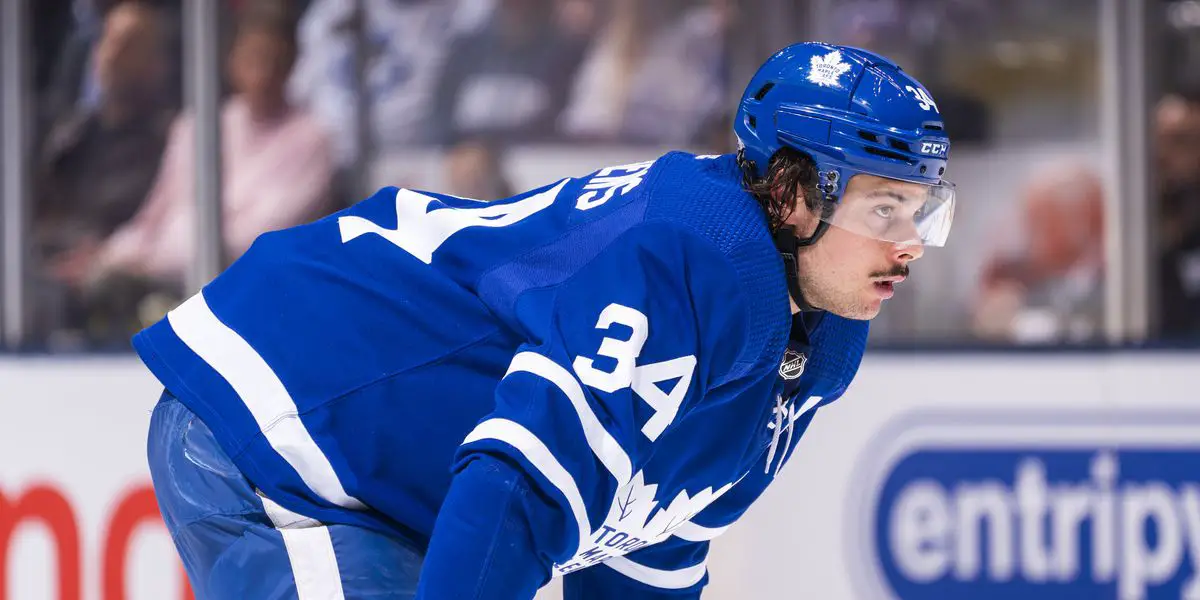 On Saturday night, the Leafs battled pound for pound with the Tampa Bay Lightning, and while some say they didn't deserve the win, they managed to squeeze out a 4-3 victory in overtime to take a 2-1 series lead. What could game four have in store? Tampa came out flying, as expected, and they got a lead early and did not look back. They took a 4-1 into the second intermission, and the Leafs looked dead in the water. It was 4-1 with 10:16 remaining in regulation, and it was not looking good whatsoever. The Leafs, however, did not give up, and they kept chipping away. They eventually tied it and went on to win 5-4 in overtime off of a deflection by Alex Kerfoot for the game-winner. Let's get into the three stars in this one. 
Previous Stars of the Game:
Game 1
Game 2
Game 3
Tonight's First Star 
Auston Matthews – While he was relatively quiet through the first two periods, he showed up when his team needed him the most. He scored to cut the Lightning lead to 4-2 off of a textbook Auston Matthews rocket short side on Vasilevskiy, his second goal of the series. 
His wasn't done there though, as he deflected his second of the game and third of the playoffs past Vasilevskiy at 12:29, less than three minutes after his previous goal. 
Matthews fired seven shots on goal and had three hits as well as three blocks to go along with his two goals. Simply a great night for number 34, a statement game, some could say. 
Tonight's Second Star 
William Nylander – Is there a more polarizing player on this current Leafs team than William Nylander? He often gets criticized for being lazy or never giving 100% effort, but he shut up some of his critics again in this one. He played less than 10 minutes through the first two periods, which was a little perplexing, to say the least. But he, like Matthews, saved his best for when it mattered most; he finished the night with three assists. His first assist came on the 4-2 Matthews goal, his second on the 4-3 Matthews goal, and his third on the Alex Kerfoot game-winner. 
Also worth noting, Nylander was the one who drew the penalty, which resulted in the power play that led to the eventual game-winning goal that he assisted on. 
Tonight's Third Star 
Alex Killorn – Killorn was a beast the entire night for Tampa Bay. He played 22:40 and had two goals, seven shots, four hits, and one block. Coming into this game, he went goalless in his previous 29 games; his last playoff goal came against the New York Islanders in the 2021 Eastern Conference Final. He finally broke through by opening the scoring tonight with a power play goal he deflected past Samsonov off of a beautiful feed by Kucherov. 
His second goal of the game came with 1:11 remaining in the second period as he fired an absolute dart that beat Samsonov, who was screened by his own defenceman Justin Holl to make it 4-1 Tampa. 
A play worth noting happened when the Leafs were on their heels, and Tampa almost buried another one off of a scramble in front of the Leafs goal, but rookie Matthew Knies literally hauled the puck off the goal line to prevent another Tampa goal. 
The Leafs now head home with a 3-1 series lead and an opportunity to close out the Tampa Bay Lightning on home ice. A chance to end a 19 year streak of not getting out of the first round of the playoffs. People thought Tampa came out flying tonight? I fully anticipate the Lightning to be even better on Thursday night in Toronto. This team has been to three consecutive Stanley Cup Finals and have won back-to-back cups in the past four years; they are not going to go away quietly. 
For more Leafs news and in-game tweets, follow me on Twitter @mikethefanatic! Also, be sure to check out The Leafs Late Night Podcast wherever you listen to your podcasts!
WELCOME BACK TO LEAFS LATE NIGHT! Presented by Inside The RinkRoscoe / Galaxy Biehn – Dubas Out?!?- Remember All The Good Times We Shared- I Don't Love Our Options- Matthews Next Deal?- Keefe's Fate- AI MascotsSPORTS! IS FUNMERCH IS AVAILABLE!JOIN OUR DISCORD!Remember to follow us on Twitter @LeafsLateNight & IG @LeafsLateNightCheck out Mike, Josh, and Nathan's articles on the Leafs + many more! insidetherink.com