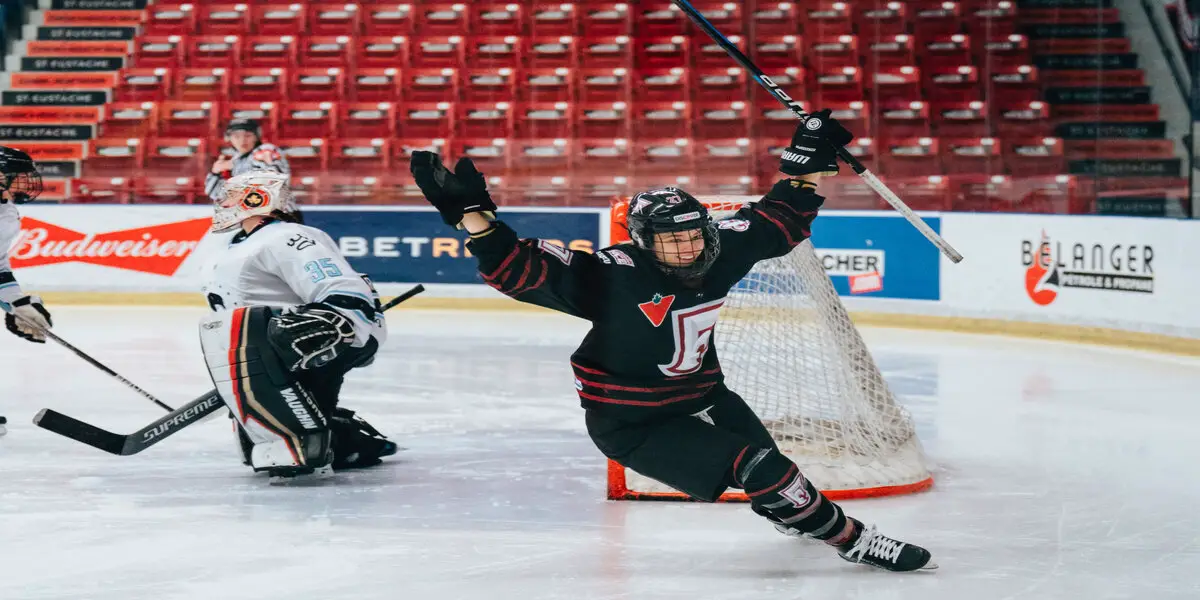 After being eliminated from playoff contention last night, the Montreal Force responded with an impressive performance and a big win.
Playing at the arena of the Blainville-Boisbrand Armada in their final home weekend set of the season, the Montreal Force overpowered the visiting Buffalo Beauts 6-2 on Saturday afternoon.
Jade Downie Landry opened the scoring 58 seconds into the game when Anne Sophie Bettez pulled off an impressive pass, and she managed to beat Samantha Ridgewell through her legs. Four minutes later, Mikayla Grant Mentis responded for the visitors, and she managed to get a shot on goal and got her own rebound to tie the game.
Whitney Dove gave the Beauts the lead two minutes later with a shot from the point that fooled Tricia Deguire, who was being screened, and she managed to beat her top shelf. Sarah Lefort tied the game three minutes later with a solid pass from Alexandra Labelle and a powerful shot.
Less than two minutes later, Downie-Landry gave the Force the 3-2 lead again with a superb pass from Bettez, ending a high-scoring first period.
The second period saw the Beauts get penalized four times, but the Force couldn't capitalize. In the third period, less than two minutes in, Montreal found themselves on a 3 on 1, and Lefort scored her second of the game to double the Force lead to 4-2.
Four minutes Alyssa Holmes made it 5-2, scoring her first-ever PHF goal as Laura Jardin took a shot that went off the post, and Holmes found the loose rebound and put it into the back of the net. Five minutes later, Kristina Shanahan scored her third of the season, getting a solid pass from Taylor Baker.
After the game, head coach Peter Smith was pleased with his team's performance, and I asked him about responding to a disappointing effort last night that saw them lose 3-1 and be knocked out of playoff contention.
" I thought we had some real good jump," He said. " I didn't think we were ready to play yesterday, and we talked about it after the game about what we could do better, and I thought we did, and scoring a minute into the game gave us some momentum and confidence and a lot of resilience."
Holmes was super happy after finally being able to score her first goal of the season and her playing career and spoke about it after the game.
" It was about time," She said. " It was an awesome shot by Laura (Jardin), and it went off the post, and I was there for the rebound, and we came out today ready to give it our all, and even if we're out, we want to play for each other and do everything we can to win, and it was a good response."
The Montreal Force will wrap up their first PHF season on the road as they will head to New Jersey to face the Metropolitan Riveters next weekend.
Salary cap raise 1:00All star game 7:44beauts outdoor game 10:10ECHL all star game 12:24 Live fantasy hockey draft 16:00Hockey jerseys reviews 37:36