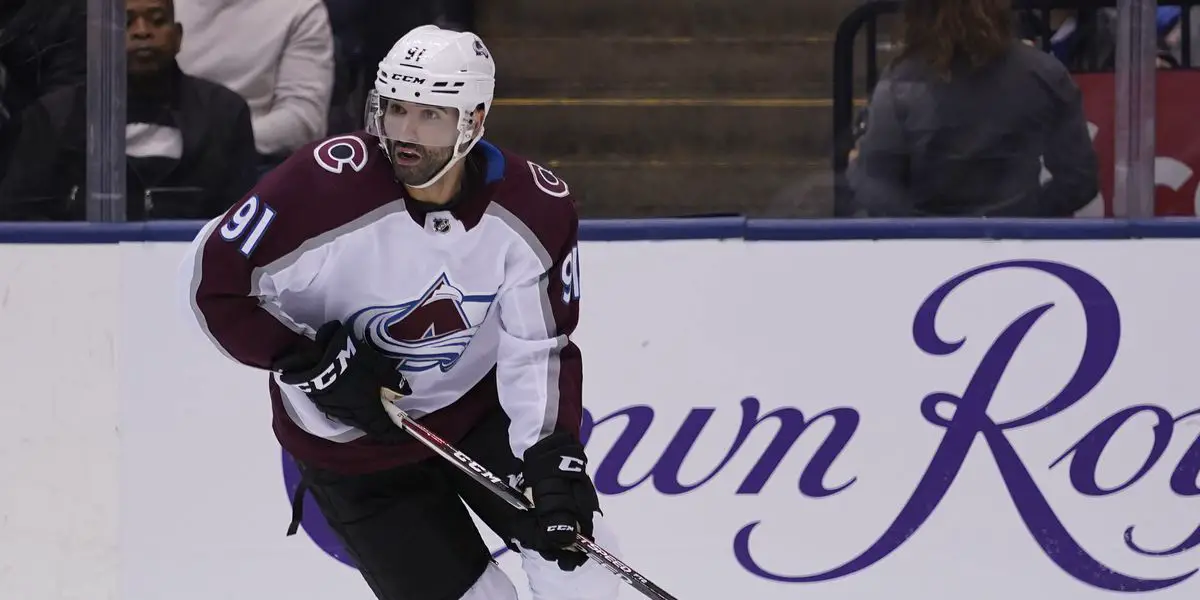 With Patrice Bergeron returning for another year, the Bruins are postponing what many thought would be a rebuild this off-season. Bergeron wouldn't be returning if that was the case, as the future Hall of Famer is here to win and help deliver another Stanley Cup to the Boston faithful. Since the Bruins will be looking to compete, they must find a way to bring in talent to improve this team. That even includes a guy pretty high up on the list of Boston Bruins public enemies.
Nazem Kadri is a guy that the Bruins need to take a good look at when free agency kicks off at noon on July 13th, as he checks off a lot of the boxes for the Bruins. While it's hard to imagine Kadri in a black and gold sweater if it does happen, it's something Bruins fans would adjust to quickly as Kadri is the type of player fans have been missing for a while.
Kadri's Career Year
The Colorado Avalanche center is set to become a free agent this offseason after completing a six-year, $27 million contract. The Bruins are in need of a true second-line center as Erik Haula is not the answer, and David Krejci still hasn't announced if he is coming back for a final run with Bergeron. Kadri brings talent as he is coming off a fantastic year that saw him tally a career-high 87 points (28 goals, 59 assists) as he helped the Avalanche hoist the Stanley Cup for the first time since 2001.
One Bruins insider made the case why Kadri would be a good fit in Boston even with his reputation for toeing the line between clean and dirty. Ty Anderson of 98.5 The sports Hub went on NBC Sports Boston and made some excellent points.
"They need another guy who can drag them into the fight," Anderson said. "It can't always be Brad Marchand. He's too important to this team."
"McAvoy is the only guy on this defense who can light somebody up. I like tenacity, but I want tenacity with a little bit of skill. So, Kadri checks those boxes for me and addresses the second-line center position as well."
The case he makes is a solid one, as the Bruins do indeed lack that player who is willing to be chippy. As he points out, it can't always be Marchand and McAvoy, as both players are too valuable to have off the ice. The Bruins have lacked this type of player since they moved on from Milan Lucic and Shawn Thornton. Both these players were the heart and soul of the big bad Bruins when they were on the team.
Kadri Would Instantly Improve the Bruins' Top-Six
Adding Kadri to the second line would instantly give the Bruins a deep top-six as it would be chock full of talent. The 31-year-old is still a very skilled forward, however, and arguably will be the top free-agent center on the market this summer, making it that much harder to sign him. While many Bruins fans may still see him as a villain from his days in Toronto, there's no question that he would add much-needed depth to an inconsistent Bruins team that didn't get much outside of its top line last season.
The thought of Kadri anchoring a line with Taylor Hall and David Pastrnak on his wings would be a nightmare for opposing teams. Hall and Pastrnak would thrive with a center like Kadri, as his skill level is way above what Haula offers.
"If you had Taylor Hall working with Kadri (on Boston's second line), I think you'd have results similar to what he did in Colorado this year," Anderson added.
While many fans may not like Kadri, his skill set is precisely what the Bruins need if they want to continue to compete in a stacked Eastern Conference. Teams continue to improve while the Bruins continue to stay on the same course they have for years. With all the injuries the Bruins are facing to start the season, especially the ones to Brad Marchand and Charlie McAvoy, the Bruins need to improve to stay afloat until they can return. Something needs to change, even if that means bringing in the same guy that drew the ire of Boston fans during the 2019 postseason when he cross-checked Jake DeBrusk, earning a series-long suspension as a result.
Bruins Must Clear Cap Space
The biggest problem that the Bruins will face in pursuing Kadri is their lack of cap space. Before they can even go after the skilled center, they must trade one or two players to create the space. The Bruins should start the process by buying out Nick Foligno's contract, opening up $2 million in cap space, and opening up a fourth-line spot for a young player-killing two birds with one stone. The Bruins have plenty of players they could deal mainly Matt Grzelcyk ($3.68 million AAV) and Mike Reilly ($3 million AAV). The Bruins could also move some expiring deals, such as Craig Smith's contract, which carries a $3.1 million cap hit next season.
Kadri will receive a significant pay raise as he will receive a contract in the five to six-year range with an AAV that will likely range from $7.4 to $8.6 million. The Bruins could undoubtedly make this happen if they are committed to going all-in for next season. At this point in time it's anybody's guess as to what general manager Don Sweeney will do as this has been a dysfunctional off-season and the Bruins still don't even have a head coach yet.
The boys squeak in an episode before Jake heads off to Florida. They touch on the Bruins' recent milestones, especially Bergerons 1000 points. They head over to the metro to see can Pittsburgh and Washington turn things around before heading out west to take Shane Wright and the Seattle Krakheads.Thanks for listening! Please rate and review our show on your favorite listening platform. Check out our partner's website at www.insidetherink.com for all your latest hockey news.