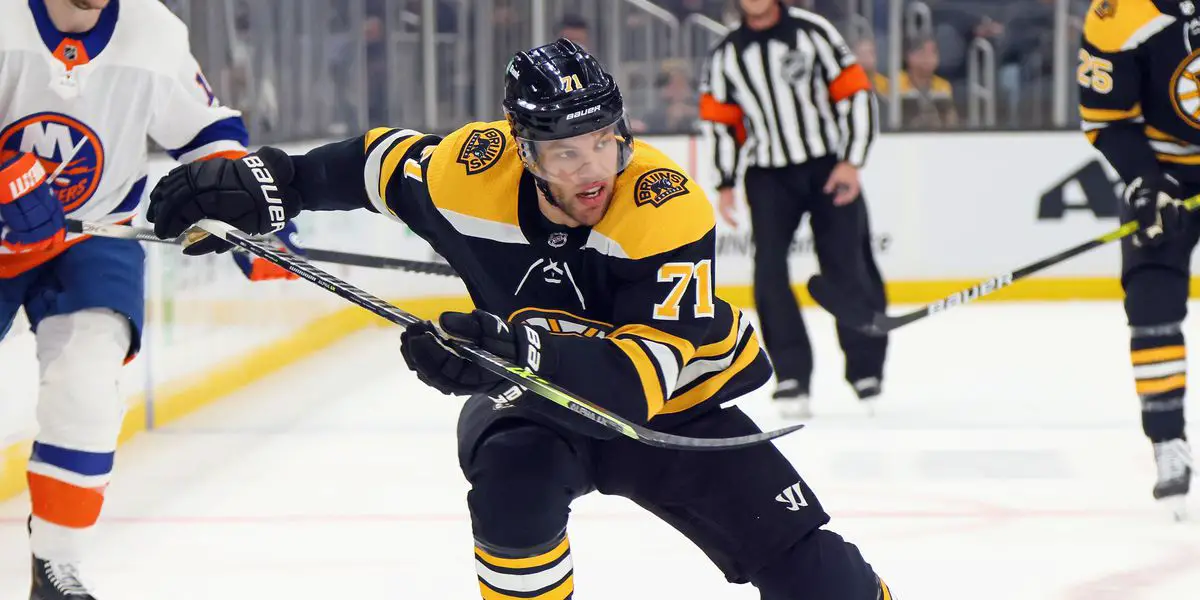 Taylor Hall is a lot of things. But a third line depth scoring option would be a first for the former NHL MVP. "I don't know that there's another team with a Hart Trophy winner playing in the 3-hole," Florida Panthers coach Paul Maurice told Amalie Benjamin. It just goes to show the embarrassment of riches Bruins head coach Jim Montgomery has at his disposal. Despite Patrice Bergeron yet to make his playoff debut and David Krejci sitting out games three and four with injuries.
Despite how unorthodox Hall may appear on paper outside of the Boston Bruins top-six forwards, his effectiveness in his newfound role is hard to deny. Through four playoff games against the Panthers, the former NHL MVP has seven points, including goals in three straight games.
Hall put Sunday afternoon's Game 4 on ice after pickpocketing a flat-footed Radko Gudas in the neutral zone, skating in alone, and slipping Boston's fifth goal of the day past Panthers netminder Sergei Bobrovsky. "He'll come through the neutral zone, and there's a couple plays, even in the last couple games, where he makes it high-stress," Bruins forward Jake DeBrusk told Boston.com's Conor Ryan following the Bruins victory in Game 4. This a perfect example of the embarrassment of riches Bruins head coach Jim Montgomery has at his disposal. 
"This is as good of a chance at potentially a Stanley Cup as I'll ever have," Taylor Hall told reporters between Games 1 and 2 "That's not lost on me." So it would appear egos have been checked at the door.
Now with a 3-1 series advantage, the Bruins will return to Boston looking to close out the Panthers season.
The Bruins are reeling and need to right the ship; their division lead is dwindling. What's wrong with Brad Marchand? Is he starting to decline, or stuck in an early slump? Should the Bruins make a deal now? Potential trade partners discussed. Plus much more!DraftKings Sportsbook – Boston's hometown Sportsbook is LIVE right here in Massachusetts! Bet local on all your favorite sports from the comfort of your own home with DraftKings. To celebrate, ALL new customers will receive up to TWO HUNDRED DOLLARS in BONUS bets when you sign up for DraftKings Sportsbook using code ITR! You can now bet local on money lines, spreads, props, and more with one of America's top-rated Sportsbooks – DraftKings Sportsbook!  Download the DraftKings Sportsbook app and sign up with code ITR to get up to TWO HUNDRED DOLLARS in BONUS bets to use now that mobile sports betting is live in Massachusetts. That's code ITR only at DraftKings Sportsbook. If you or a loved one is experiencing problems with gambling, call 800 327-5050 or visit helplineMA.org to speak with a trained specialist, free and confidentially, twenty four seven. 21+. Physically present in MA. Eligibility restrictions apply. Subject to regulatory licensing requirements. Eligibility and deposit restrictions apply. Opt in required. Bonus issued aree bets. Terms at draftkings.com/MA.