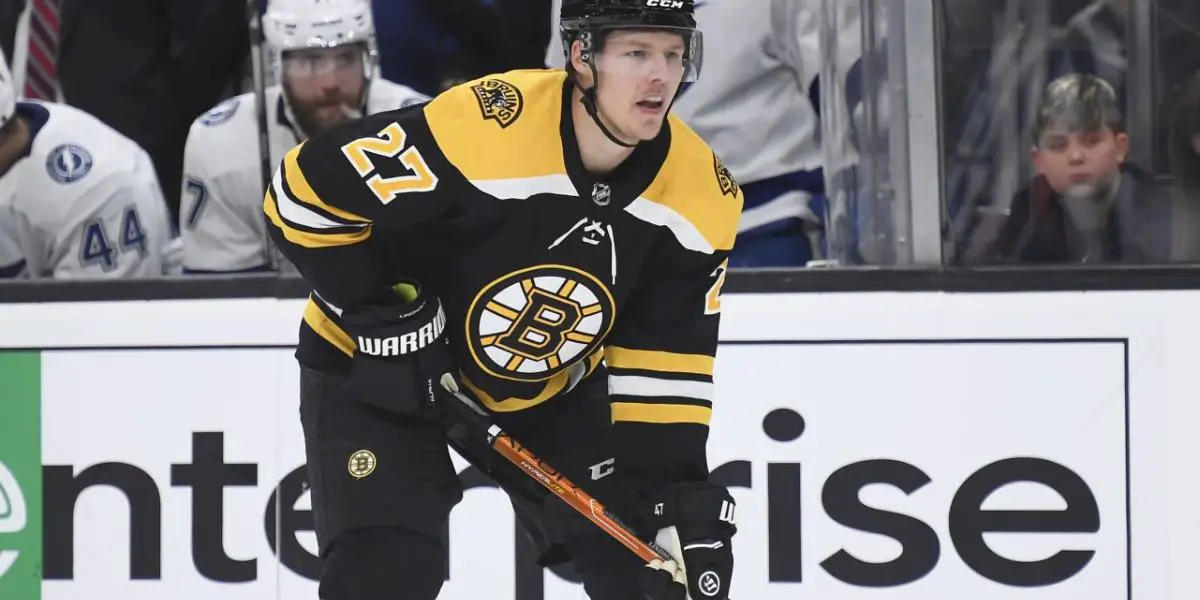 The Bruins and the Ducks are no strangers when it comes to making trades with each other. Over the last couple of seasons, we have seen the two teams make a few trades, with the most recent one being this season at the trade deadline. The Bruins acquired Hampus Lindholm to bolster the left side of their defense while also unloading John Moore's contract in the process. With the Bruins facing the possible loss of a couple of their roster players to free agency, they will need to retool and find ways to improve as a whole. With their most significant need being a top-six center, other holes need to be addressed as well. The Bruins could look to bolster their bottom six with some improvements and improve on the right side of their defense. There are two players in Anaheim that the Bruins could have their eye on this offseason as they look to make a flurry of moves to improve.
Max Comtois
Finding a cheaper and younger bottom-six option with proven NHL skill whose coming off a down year sounds like the trade target the Bruins can focus on. Comtois proved during the 2020-2021 season that he could play at the NHL level as he led the Ducks with 33 points(16 goals and 17 assists) in 55 games. Unfortunately for Comtois, he regressed in his fourth year in the league as the Quebec native had only six goals and ten assists through 52 games as he dealt with being a healthy scratch on multiple occasions.
Comtois makes the perfect trade target as a fresh start on a new team with a higher level of talent, and an established winning culture could turn him right back into a 16-goal scorer. At 6'2 and 210 lbs, Comtois is the perfect bigger body forward the Bruins need to bring in. At just 23 years old and signed for one more year at $2.03 million, the Bruins would have the chance to get an entire season to evaluate him to make sure they fit in the lineup works moving forward.
With Comtois's higher upside, the Bruins would most likely have to include a mid-round pick or mid-tier prospect who could get the job done. This seems like a no-brainer as the Bruins have nothing to lose and much to gain if Comtois can regain his goal-scoring form.
Kevin Shattenkirk
With Matt Grzelcyk already set to miss the beginning of next season after undergoing shoulder surgery in the offseason, the Bruins will look to once again address their defense. The top pairing of Charlie McAvoy and Hampus Lindholm is going nowhere, and it seems Brandon Carlo is locked in as well. This leads to a few spots as Josh Brown will most likely depart in free agency, leaving Jakob Zboril, Connor Clifton, Derek Forbort, and Mike Reilly as the available options. The Bruins already acquired one defenseman from Anaheim this year, and it may be the time they acquire a second one.
While at 33 years old, Kevin Shattenkirk is on the wrong side of 30, but he still has the ability to be a puck-moving defenseman from the right side. Entering the final year of his contract, it seems Anaheim will be looking to get some return as they continue to build their roster back up with young talent. With Shattenkirk coming off a solid season that saw him record eight goals and 27 assists through 82 games, a decent return for the Ducks awaits.
If acquired, he would fit on either the second or third pairing and be a lock for their power play that desperately needs improvement. Either way, he would help strengthen the right side of the defense, which is a significant necessity for the Bruins heading into next season.
If the Bruins do indeed go after Shattenkirk, they will have to part ways with one of their NHL-caliber defenseman to get the deal done. After extending Zboril this past week and Grzelcyk injured, that leaves Mike Reilly and Connor Clifton as trade pieces. Along with Reilly or Clifton, the Bruins would toss in a third-round pick to get the deal done.
It'll be a wait-and-see if the Bruins and Ducks reach another agreement this year as both teams need to improve before next season. If the Bruins want to get better, they will need to make a flurry of moves to improve throughout, and adding Comtois or Shattenkirk would be a good start.
The boys are back after a long break but have plenty to talk about as the playoffs are in full swing. We go series by series, looking at how teams have fared so far and who will come out on top. Thanks for listening! Please rate and review our show on your favorite listening platform. Check out our partner's website at www.insidetherink.com for all your latest hockey news.