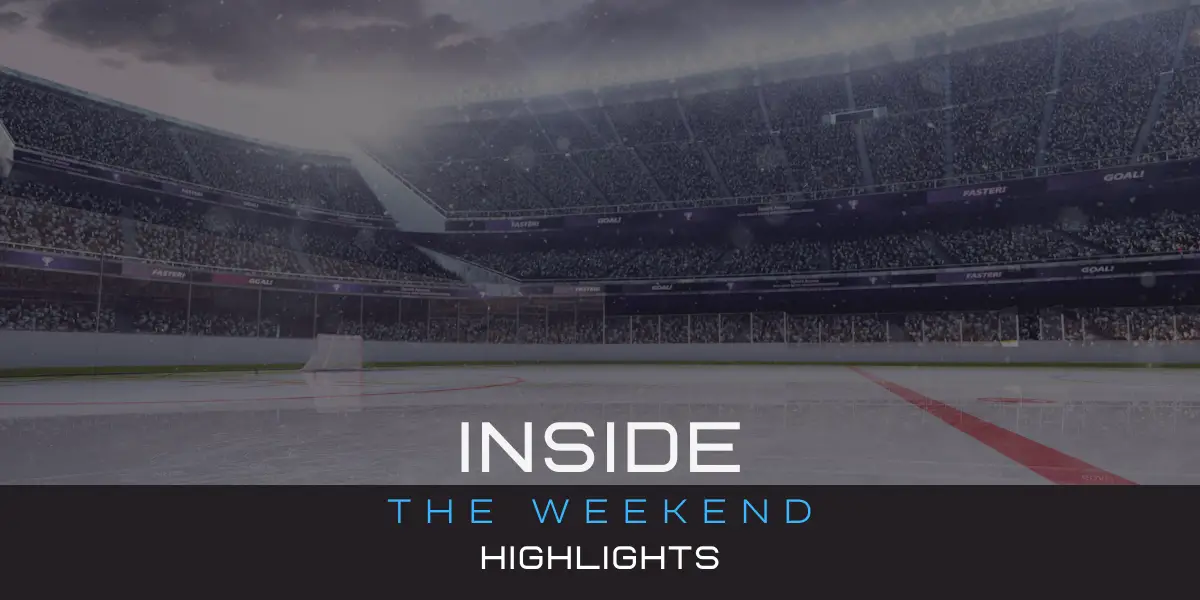 This weekend was a special weekend inside rinks all over the NHL. From first-time goals to first-time hat-tricks to record-breaking milestones, this weekend was something to be remembered. If you missed anything around the league this weekend, we'll try and catch you up!
Thursday – 11/11 (Extended Weekend in honor of Veterans Day)
The Senators cotninue to face COVID issues, but in true fashion of their year, the Finnish rookie Lassi Thomson makes his NHL debut against the LA Kings.
Speaking of the LA Kings Anze Kpoitar scores his 101st power-play goal of his career taking sole possession of fifth place in Kings history. He passed Bernie Nicholls to make this happen. Oh, and as if that was not enough, the LA Kings won their seventh straight game that night.
The Boston Bruins and Edmonton Oilers faced off in a great game, but what made the game even more special was that it was Colby Cave Night at the TD Garden. If you didn't get a chance to see the opening ceremony, we'd highly suggest it. It contained all the feels.
The New Jersey Devils goal keeper MacKenzie Blackwood recorded a 40-save shut out for the third time since 2018-2019. Only one other goaltender has done that in the same time span; Jacob Markstrom.
Goaltending had a bit of a story line Friday night. Zach Fucale of the Washington Captials made his NHL debut. He went on to get his first shutout and first win at the same time. That's pretty impressive!
A couple more firsts around the leauge: Paul Cotter and Jonas Rondbjerg both score their first NHL goals.
Troy Terry, need we say more?
Friday – 11/12
Bauer Hockey wakes up the NHL community with an approprite response to the recent allegations around the NHL.
Braydon Coburn announces his retirement from the game of hockey. A Stanley Cup champion with 983 career NHL games; he deserves the rest.
Jack Eichel has successful surgery. Set to begin his 3-5 month recovery.
Senators – still in COVID hell.
Hall of Fame class of 2020 finally gets the recognition they deserve in Toronto.
Connor McDavid had another assist to extend his point streak to 13 games. This ties the longest point streak by any active NHL player (Nathan MacKinnon).
Alex Ovechkin scores his 742nd career goal passing Brett Hull for fourth on the all-time goal scorer list.
Saturday – 11/13
The "Bunch of Jerks" Carolina Hurricanes wake up the community with a perfect World Kindness Day gift of a donation to the Montreal Canadiens Children's Foundation.
Flyers Nicolas Aube-Kubel was claimed off waivers by Colorado.
Ryle Tufte of the Dallas Stars makes his NHL debut.
Drake Batherson has a four-point night for the Ottowa Senators.
Alex Newhook scores his first NHL goal for the Colorado Avalanche.
First NHL goal for Jake Leschyshyn of the Vegas Golden Knights.
Jonathan Marchessault scores his 100th goal for the Vegas Golden Knights and becomes the first player in Golden Knights History to do it.
Rem Pitlick accomplishes every kids dream. Scores his first NHL goal, then goes on to turn that goal into a hat-trick.
Sunday – 11/14
The Department of Player Saftey hands out a couple of fines. One to Pittsburgh's Evan Rodrigues for a dangerous trip. The other to Minnesota's Alex Goligoski for high-sticking. They also miss one gigantic issue with the play from Mark Borowiecki because he did not "extend" his knee. It's not that they didn't suspend him, it's that they have no consistency again.
"Uncle Leo" announces he is departing the NHL and is headed overseas.
Dan Vladar becomes first goalie in Calgary Flames franchise history to start the season with a four game point streak.
Troy Terry continues to torture opponents with a 14-game point streak.
Jeremy Swayman of the Boston Bruins is 8-0-0 while playing at the TD Garden.
Connor McDavid scores his 600th NHL point. He is the 6th fastest player in history to hit that mark.