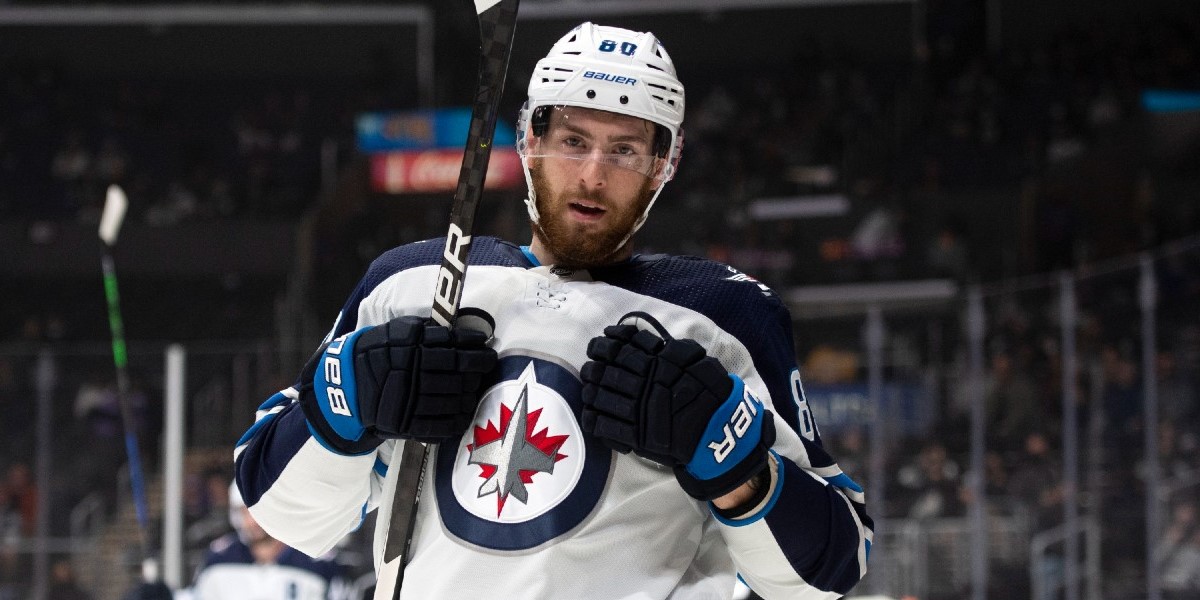 It has been reported that Kent Hughes, the Montreal Canadiens general manager, is willing to move the fifth overall pick of the 2023 NHL entry draft to acquire Winnipeg Jets center, Pierre-Luc Dubois. The report comes around 12:00 pm CST on May 9th from a reporter of the Montreal Gazette.
This comes as a report that is unexpected after the draft lottery, but the Montreal Canadiens are looking to get better as soon as the season opener for the team. They have the tools to be competitive for many years to come. Pierre-Luc Dubois would push the Montreal Canadiens over the edge in terms of competition level.
Related Story: What's Going On With Pierre-Luc Dubois?
The Jets center plays a physical game and will be a valuable asset for many years to come, especially with his desire to play in his home province of Quebec. Kent Hughes and Kevin Cheveldayoff will likely begin discussions well before NHL entry draft day.
This article written by Brendan Kelly of the Montreal Gazette has brought up the potential idea of trading the fifth overall pick to the Winnipeg Jets for Pierre-Luc Dubois
Diving deeper into this report, I have a few thoughts on this trade proposal.
My Thoughts:
It was clear that if teams had some sort of idea that they would've been in the bottom ten teams of the league, they were going to attempt to get the first overall pick. Montreal was one of the teams this year that was an absolute dumpster fire, they were injured left-right and center, and teams absolutely demolished them. This season wasn't great for the Montreal Canadiens, and they landed the fifth overall pick because of it.
With that fifth overall pick, the Montreal Canadiens could draft any of the following players, Matvei Michkov, Dalibor Dvorsky, Brayden Yager, or Eduard Sale.
You can read Dvorsky, Yager, and Sale's prospect profiles that I have written at the links below:
2023 NHL Draft Prospect Profile: Dalibor Dvorsky | Inside The Rink
2023 NHL Draft Prospect Profile: Brayden Yager | Inside The Rink
2023 NHL Draft Prospect Profile: Eduard Sale | Inside The Rink
Each player will make a huge impact within the league in the future, but it seems Montreal wants to be competitive now. Dvorsky, Yager, and Sale's development path likely being three to four years away from now.
What about Matvei Michkov? He won't be in the league until the 2026-27 season if he doesn't sign another contract in Russia. This is a curious case, it's also a case of uncertainty and a little bit of anticipation. At one point, Michkov was touted to potentially be drafted above Bedard, if Michkov does excel in the next year or so, his draft ranking may look like a steal.
What if Kent Hughes says that it is worth trading the fifth overall pick for the already established center in Pierre-Luc Dubois? You are guaranteed to have an incredible center depth chart with Nick Suzuki, Kirby Dach, Jake Evans, and then adding Pierre-Luc Dubois. The Montreal Canadiens would become a force for many years to come.
This would almost without a doubt help Winnipeg retool quickly rather than rebuild. Winnipeg could definitely use a fifth overall pick to draft Michkov and wait for him to eventually transition to the NHL. Stocking the cupboards doesn't sound like a bad idea, especially when they need a big makeover after the past three seasons.
The boys are back after a long break but have plenty to talk about as the playoffs are in full swing. We go series by series, looking at how teams have fared so far and who will come out on top. Thanks for listening! Please rate and review our show on your favorite listening platform. Check out our partner's website at www.insidetherink.com for all your latest hockey news.