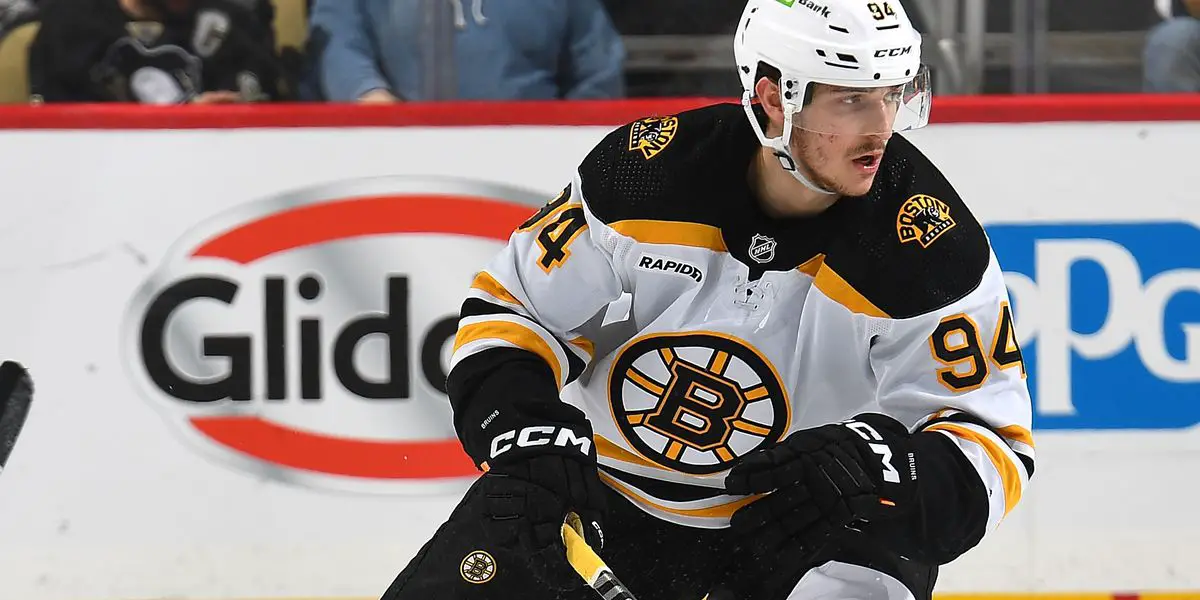 As the postseason nears, the Boston Bruins must make a few difficult decisions regarding their lineup. Since the additions of Garnet Hathaway and Dmitry Orlov to the roster before the trade deadline, Head Coach Jim Montgomery has plenty of depth as the Bruins continue their quest for a Stanley Cup. Montgomery will be sorting through his defensive core to find the right pairs for the postseason. The Bruins must also find the best fourth line to roll out for Game 1 of the Stanley Cup Playoffs.
One option for Mongtomery might be Jakub Lauko. Lauko was drafted in the third round of the 2018 NHL Draft by the Bruins with the 77th pick as an 18-year-old center. The 6-foot, 200-pound forward was the 24th center chosen in the draft. The Prague, Czech Republic native has played primarily wing in 21 games with Boston this season, 10 of those games coming since March. Lauko has scored four goals on just 17 shots and has 38 hits in His brief time with Boston.
In 35 games with Providence of the American Hockey League this season, Lauko has ten goals and seven assists with a plus-10 rating. On March 2nd, the gritty winger scored two goals in a 7-1 win over Buffalo, a game that opened the eyes of the Bruins staff and fans who have waited for Lauko to get his chance. Now, a decision will be made on whether Lauko will be a regular fourth-liner in the playoffs.
The 22-year-old forward will be competing amongst a group of bottom-six candidates, including Trent Frederic, Tomas Nosek, Oskar Steen, Garnet Hathaway, and potentially Nick Foligno, who could be returning from an injury at the end of the regular season. Frederic has had his best season with 16 goals, 14 assists, and a plus-24 rating. Nosek is the regular fourth-line center, is good in the faceoff circle (57.8 percent), and is an excellent penalty killer.
Steen has come on lately, showing good skating ability, and found the net on Sunday in a win over the St Louis Blues. Hathaway was acquired to be a checking forward with some finish who will also stand up for teammates and be an agitator. Foligno has had a terrific rebound season with ten goals and 16 assists but had to leave a February 28th game against Calgary with a lower-body injury and has not returned to the lineup. It is possible that Foligno will be available for the postseason.
There are just three spots available with five players in the mix. Playing time will be tough to come by, but Jakub Lauko is making a case to play in his first postseason in the NHL with his good skating ability and willingness to play a physical game. An abundance of depth is a nice problem to have if you are Montgomery. We will see who makes up a fourth line that should be a matchup problem for playoff opponents of the Boston Bruins.
Season 2. Episode 38. Special Guest Terrence Wallin
–
Bruins Benders Podcast
Maine Mariners Coach Terrence Wallin makes a return visit to recap the season. Should the Bruins make room for Tyler Bertuzzi? Will the Bruins move some core pieces? I guess there is more time for golf and more!