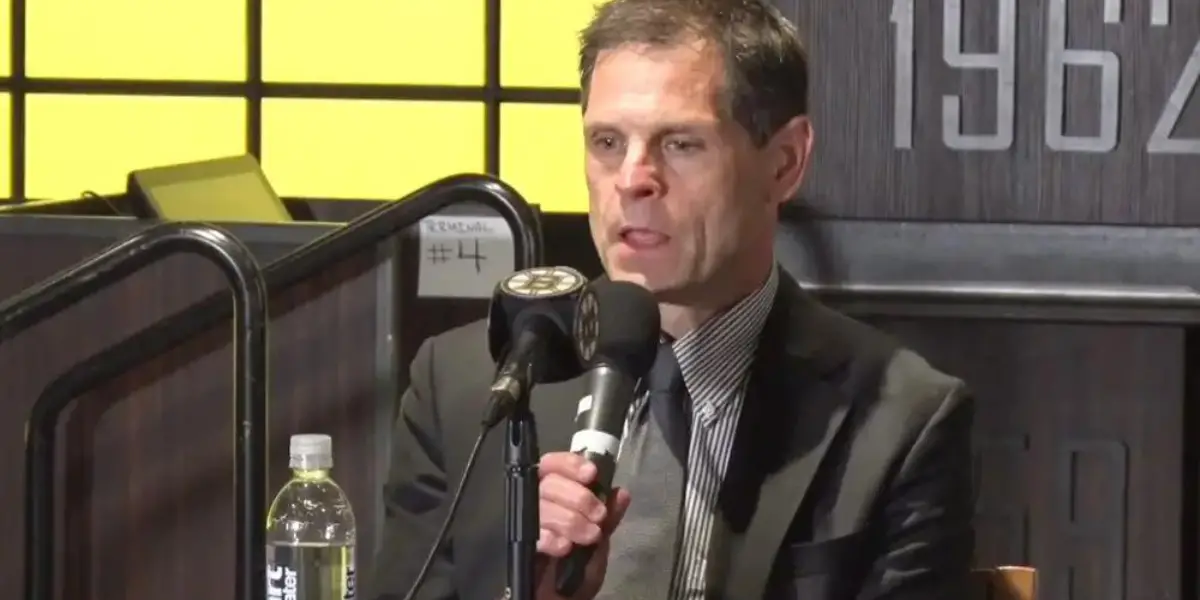 At the end of the 2019-20 season, the Boston Bruins management team had an end-of-season media day. During that presser, Team President Cam Neely said, "We will take a hard look at our roster this off-season." Speculation began to circulate that the Bruins might move away from some of their core members and that a run for a Stanley Cup would have to wait a few more years. It turns out that the Bruins did not change the roster all that much, and most of the core stayed intact. Fast forward to Tuesday's end-of-season press conference, and the tenor of the conversation sounded eerily similar.
General Manager Don Sweeney said, "Roster changes are likely coming" after the team suffered a shocking first-round defeat to the Florida Panthers in seven games. The President's Trophy-winning Bruins set the NHL record for wins and points but blew a 3-1 series lead by losing three in a row and two of those games at home. As Ty Anderson tweeted, Sweeney hinted at a retooling and referenced younger players potentially in certain spots next season.
The Bruins have several unrestricted free agents, including their top two veteran centers.
Patrice Bergeron and David Krejci played last season on team-friendly, performance-based contracts. Krejci stayed at breakup day that he would either return to the Bruins or retire. Bergeron seemed to take one last twirl at center ice at the end of Game 7 and embraced several teammates in what seemed to be a teary goodbye. The 37-year-old said he was not ready to decide on his future.
For the sake of the franchise, the status of both players should be decided sooner rather than later. Too many dominoes will fall depending on each player's availability next season. As far as next season is concerned, the comments from Sweeney sounded familiar to comments made by Neely just three years ago. At the time, the Bruins did not have to move core members from that team, but with the organization's salary cap restraints this off-season, major moves appear inevitable.
Related Story: Boston Bruins Final Grades: Forwards
Related Story: Boston Bruins Final Grades: Defensemen
But what would those moves look like? Sweeney has been nearly masterful in constructing trades over the last few years. The former Bruins defenseman has won significant trades by acquiring Charlie Coyle, Taylor Hall, Hampus Lindholm, Tyler Bertuzzi, Dmitry Orlov, and Garnet Hathaway. Typically Sweeney makes trades that are in favor of the Bruins. The one trade that had some risk/reward was the trade of Erik Haula to New Jersey for young center Pavel Zacha. In essence, Sweeney doesn't take a lot of chances.
This off-season will test Sweeney's ability to trade a good core player for an asset that helps the team's inevitable reload. Salary cap gymnastics will be in play for Boston this summer. Who do the Bruins continue with on this roster? Who becomes expendable? Who should the team attempt to re-sign? Here is a look at some options.
Unrestricted free agents
Boston has many unrestricted free agents as of July 1 that can sign with any team. Newcomers Bertuzzi, Orlov, and Hathaway should command pretty good value and term. Bertuzzi will be looking for a long-term lucrative deal, and his former team, the Detroit Red Wings, are still in play. The Bruins would like to retain the left wing, and Bertuzzi has confirmed that he has loved his time in Boston. A roster player or two must be moved to make it happen.
Orlov is more of a stretch to return. The defenseman was excellent in 21 regular season games and good at times in the playoffs. The left-shot blue liner turns 32 soon and wants one last deal. His former team Washington is still an option as well.
Hathaway could be had on a friendly deal. If another team jumps in with a multi-year contract offer, the Bruins will have difficulty matching it.
Tomas Nosek and Nick Foligno are two forwards who are now on the market. Foligno would like to return but would probably need a veteran minimum contract. Nosek might have some value for another team who wants a solid bottom-six center who is a good penalty-killer and high-percentage faceoff guy.
Connor Clifton had a good season in Jim Montgomery's system but struggled in the postseason. His market value could fluctuate, but expect Clifton to receive a multi-year deal from another team.
Restricted free agents
Forward Trent Frederic is arbitration eligible and coming off his best season. The Bruins should be looking to sign the former first-round pick to a contract for multiple years if they deem he can take on a bigger role. If not, then maybe a one-year bridge deal is more likely.
Goaltender Jeremy Swayman is an interesting case. A team looking for goaltending help can really make it difficult for Boston by offering the former UMaine star a big contract. In that case, a trade of Linus Ullmark might be a better play to retain Swayman. This is something to keep an eye on.
Trade possibilities
The Bruins will likely buy out Mike Reilly if they can't find a trade suitor. There have been rumors that every player is on the table. Still, the likelihood of the Bruins trading Charlie McAvoy, Hampus Lindholm, David Pastrnak, or Brad Marchand is slim due to the investment made in the first three players as the next core members and Marchand's longtime contributions to the franchise. Could Boston trade Taylor Hall, Jake DeBrusk, or Charlie Coyle? Maybe. Hall would be the obvious choice if the Bruins can sign Bertuzzi. DeBrusk has one year left on his contract and has positioned himself to get a long-term contract. Coyle is 31 years old and can submit an 8-team no-trade list. The Bruins also could deal defenseman Matt Grzelcyk to clear space with Jakub Zboril and potentially second-round pick Mason Lohrei waiting in the wings at low cost. Then there is Ullmark. The favorite for the Vevona Trophy could bring a good return in a trade.
Related Story: Boston Bruins Sign Mason Lohrei To Entry-Level Contract
Prediction
I feel that Bergeron returns on a similar deal, and Krejci retires. The Bruins buy out Reilly and look for trade partners for Grzelcyk and Derek Forbort to save over $6 million. Boston trades Ullmark and Hall and re-signs Bertuzzi and Swayman. Young prospects John Beecher and Marc McLaughlin get a chance to make the team as bottom-six forwards, and Jakub Lauko and Oskar Steen also find roles with the Bruins.
At the end of the day, this isn't 2019-20 again. This time significant moves will need to be made. But don't count out the Bruins in 2023-24. As we have seen with the Florida Panthers, you can win the President's Trophy, fall short of expectations, and then make savvy roster moves to make a run the next season.
The Bruins are reeling and need to right the ship; their division lead is dwindling. What's wrong with Brad Marchand? Is he starting to decline, or stuck in an early slump? Should the Bruins make a deal now? Potential trade partners discussed. Plus much more!DraftKings Sportsbook – Boston's hometown Sportsbook is LIVE right here in Massachusetts! Bet local on all your favorite sports from the comfort of your own home with DraftKings. To celebrate, ALL new customers will receive up to TWO HUNDRED DOLLARS in BONUS bets when you sign up for DraftKings Sportsbook using code ITR! You can now bet local on money lines, spreads, props, and more with one of America's top-rated Sportsbooks – DraftKings Sportsbook!  Download the DraftKings Sportsbook app and sign up with code ITR to get up to TWO HUNDRED DOLLARS in BONUS bets to use now that mobile sports betting is live in Massachusetts. That's code ITR only at DraftKings Sportsbook. If you or a loved one is experiencing problems with gambling, call 800 327-5050 or visit helplineMA.org to speak with a trained specialist, free and confidentially, twenty four seven. 21+. Physically present in MA. Eligibility restrictions apply. Subject to regulatory licensing requirements. Eligibility and deposit restrictions apply. Opt in required. Bonus issued aree bets. Terms at draftkings.com/MA.